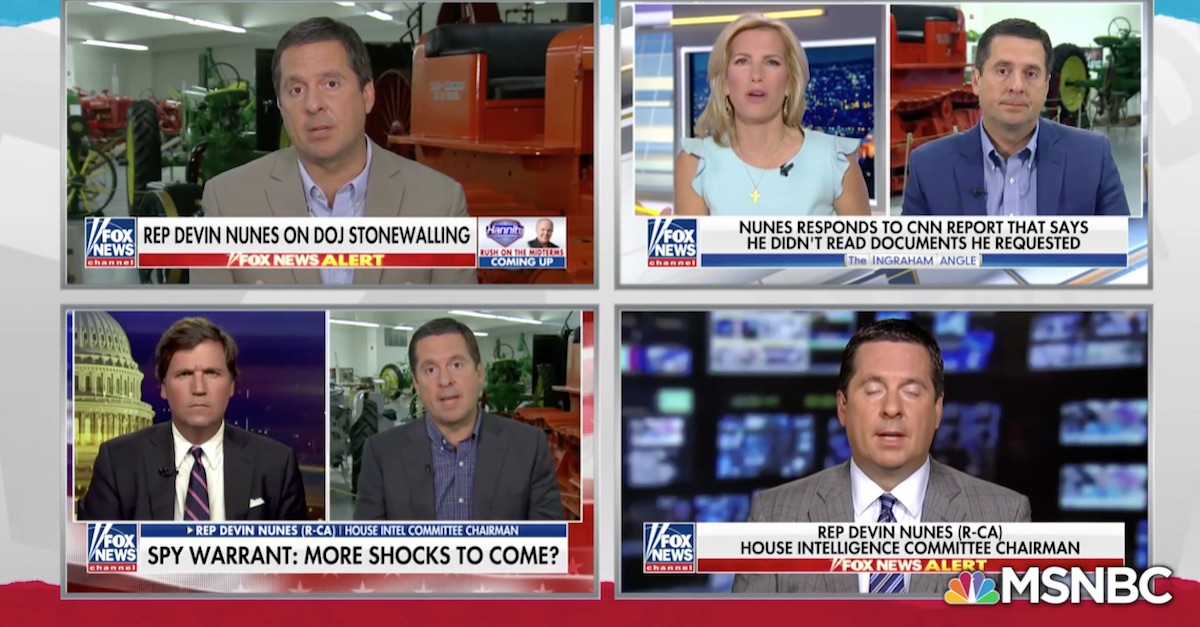 When Rep. Devin Nunes (R-Calif.) admitted that Republicans in Congress are waiting until after Brett Kavanaugh is confirmed by the Senate to the U.S. Supreme Court to ramp up impeachment efforts of Deputy Attorney General Rod Rosenstein, he brought the obvious into focus.
If President Donald Trump is going to fire special counsel Robert Mueller that also has to happen after the SCOTUS situation is resolved, so as not to grind the Senate to a halt on an issue that means much for Trump's legacy as president. Furthermore, a Mueller firing will likely have to wait until after the midterm elections (Nov. 6) — unless something catastrophic for Trump Sr. happens, for instance, an indictment of Donald Trump Jr.
Remember, while it's Deputy Attorney General Rosenstein who has the power the fire Mueller right now, Trump also has the constitutional power to direct repeal of a regulation that the attorney general alone may fire a special counsel. Since Jeff Sessions is recused on the matter of the Russia probe, the responsibility of deciding whether or not to fire Mueller, if Trump were to ask for this, falls to Rosenstein. If Rosenstein declines to do so, Trump can take the repeal-the-regulation route, but not without consequences of ensuing press and public ire. If Trump wants the House Republicans to do this dirty work for him through impeachment, as explained, that can't happen until Kavanaugh is confirmed, for the reasons Nunes gave. Firing Rosenstein is also an option, if the impeachment route fails.
In case you missed it, MSNBC's Rachel Maddow dropped some audio tapes on Wednesday night. On those tapes, Nunes, who didn't know he was being recorded, can be heard at a private function explaining that Congress — particularly the House Freedom Caucus — has been all bark and no bite on Rosenstein impeachment proceedings because it would distract Congress from bigger issues.
"So if we actually vote to impeach, OK, what that does is that triggers the Senate then has to take it up," he said. "Do you want them to drop everything and not confirm the Supreme Court justice, the new Supreme Court justice?"
Nunes went so far as to say that "If [AG] Sessions won't unrecuse and Mueller won't clear the president, we're the only ones [who can protect Trump]."
"We have to keep the majority. If we do not keep the majority, all of this goes away," he added.
National security lawyer Bradley P. Moss said that firing Mueller before the midterms "would be politically devastating" for Trump, but it's not completely out of the question. Either way, he said, such a power move would have to wait until after Kavanaugh is confirmed by the Senate.
Could it be that Mueller will get fired immediately after the midterms?
"I wouldn't rule it out, especially if the Republicans at least hold the Senate (if not also the House, though that seems less and less likely). If Donald Trump Jr. gets indicted, all bets are off, though," he said. "It's impossible to predict with certainty how Trump would react, but odds are the President – like any father – would not handle it well."
Make no mistake, a Mueller firing is a drastic step, but there's no guarantee it won't happen, especially if the Russia investigation starts hitting closer to home. Trump's cryptic Thursday tweet prompted some to ask, once again, whether Trump was hinting at a Mueller firing.
Meanwhile, the ongoing jousting between Rudy Giuliani and special counsel Mueller over a Trump interview, plus additional questions about whether Trump will be subpoenaed, loom large in the background.
Sen. Mitch McConnell has said that he anticipates a Kavanaugh confirmation to happen by Oct. 1, but that remains to be seen. If so, that's leaves roughly a month of time before elections for Nunes and Friends to renew Rosenstein impeachment efforts.
[Image via MSNBC screengrab]
This is an opinion piece. The views expressed in this article are those of just the author.