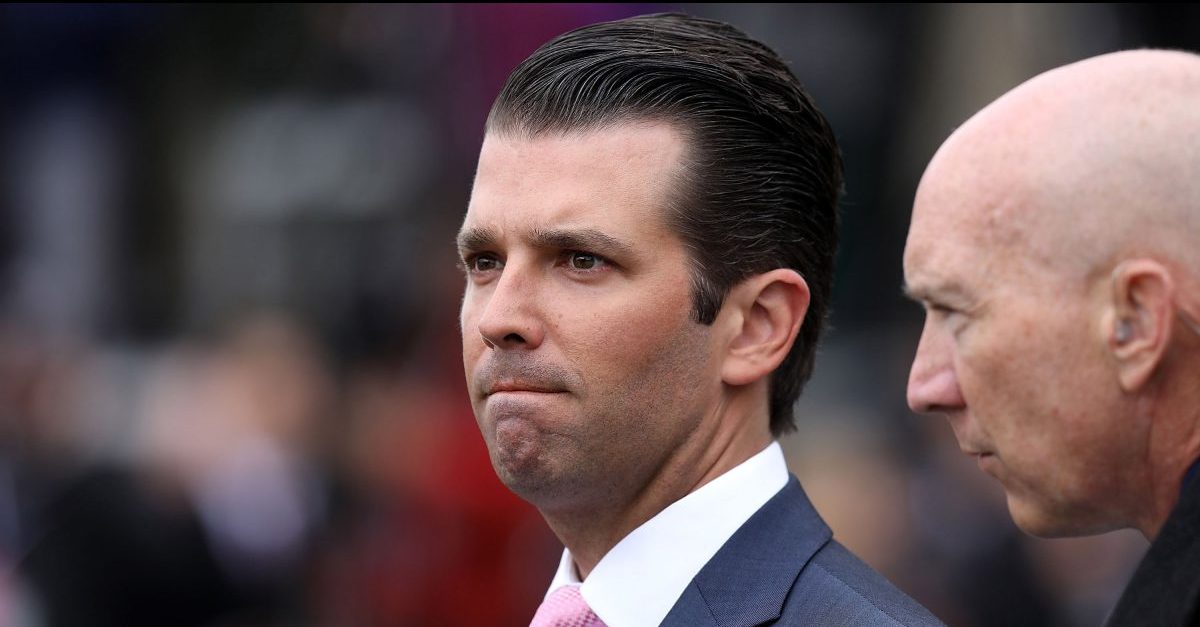 President Donald Trump's former personal attorney Michael Cohen has said something about the much-discussed Trump Tower meeting between Donald Trump Jr. and a Russian lawyer that is not exactly definitive. If it's true, though, it raises questions about what Donald Trump Jr. has said in past testimony before the Senate Judiciary Committee, and other things.
CNN reported Thursday night that Cohen claimed that President Trump knew ahead of time about Trump Jr.'s June 2016 meeting with Natalia Veselnitskaya. Veselnitskaya was recently reported to have closer ties to the Kremlin than she let on before.
If you look at what Trump Jr. told the Senate Judiciary Committee, you'll see that Trump Jr. himself said he didn't know the names of people he was scheduled to meet on June 9.
While Rob [Goldstone] said he would send me the names of the attendees for the June 9th meeting, he never did. As a result I had no advance knowledge of who would attend. I told Rob that Jared Kushner and our newly hired campaign manager Paul Manafort would likely also attend. I then asked Jared and Paul if they could attend, but told them none of the substance or who was going to be there since I did not know myself. Because we were in the same building Paul, Jared, and I would routinely invite one another to attend meetings at a moment's notice.

On June 9th — June 9th was like every other day during the campaign , it was chaotic. In addition to the campaign we still had a company to run. Because my father was solely focused on fulfilling his promise to the American people , responsibility for the company fell squarely on the shoulders of my siblings and me. Accordingly, I spent June 9th in a series of campaign and business-related meetings and interviews. The meeting which Rob asked for was on my calendar at 4:00 p.m. marked simply as "Meeting, Don Jr., Jared Kushner."
Trump Jr. took the step of releasing an email chain with Rob Goldstone about the meeting.
But you'll also see, for instance, that when asked "Did you inform your father about the meeting or the underlying offer prior to the meeting?" Trump Jr. answered as follows: "No, I did not."
This is not necessarily a lie. First, what Cohen said has to be true. Second, Trump could have known about the meeting and Trump Jr. may not have been the source of that information. As Trump Jr. mentioned, both former Trump campaign chairman Paul Manafort and Trump son-in-law Jared Kushner were supposed to attend the meeting.
President Trump, for his part, flat-out contradicted the Cohen claim on Twitter by Friday morning and Trump attorney Rudy Giuliani has called Michael Cohen "a source that is not credible."
Trump railed against special counsel Robert Mueller's examination of past tweets, and finally said, "I did NOT know of the meeting with my son, Don Jr."
"Sounds to me like someone is trying to make up stories in order to get himself out of an unrelated jam (Taxi cabs maybe?)," Trump jabbed at Cohen.
The New York Times first broke news about the meeting in July 2017. After giving ever-shifting explanations, Trump Jr. eventually admitted that he talked to the Russian lawyer Veselnitskaya after being promised some dirt on Hillary Clinton.
"I didn't think that listening to someone with information relevant to the fitness and character of a presidential candidate would be an issue, no," Trump Jr. testified.
[Image via Chip Somodevilla/Getty Images]
Have a tip we should know? [email protected]