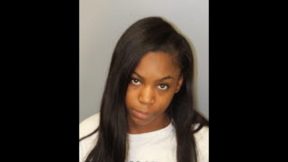 The trial of a teenager accused of murdering three during a robbery involving hair weaves or hair extensions is scheduled to begin today in Memphis, Tennessee.
Police say Shelby Isaac shot and killed Eddie "EJ" Tate, Jr.—the co-owner of a business which sold hair weaves and wigs— Edwina Thomas, Tate's girlfriend, and the couple's unborn child. After the shooting, witnesses say Isaac went through Tate's pockets.
Investigators believe the victims were sitting in a Honda Accord in an apartment complex parking lot when Isaac shot them.
Isaac was 18 years old when the murders happened around 3:27 p.m. on Friday, January 22, 2016. She faces three counts of first-degree murder. Isaac appears to have lived in the complex where the victims were shot.
Police found Tate lying on the ground with a gunshot wound. Tate died on the scene.
Thomas was taken to the hospital in critical condition, but she later died. Thomas was six to eight weeks pregnant. The third charge relates to the death of her unborn child.
Family, friends, and police believe the murders were related to Tate's business. They say hair extensions cost between $115 and $250 in retail stores, but the extensions go for $40 to $50 on the streets.
Family and friends believe Isaac had purchased hair from Tate in the past.
Thefts of hair weaves or extensions are a problem in several cities according to this report. It claims Memphis alone saw thirteen thefts over an eleven-month time frame. The merchandise stolen in the string of incidents was worth close to $20,000 total.
Authorities also charged alleged getaway driver Victoria Seay, who was also 18 at the time of the murders, with three counts of being an accessory to murder after the fact. Seay reportedly admitted to seeing Isaac shoot the victims and then flee from the scene on foot. She is accused of picking Isaac up and of driving her away in a silver Mitsubishi. Police later recovered the car. Seay, who had no criminal record at the time of her arrest, was able to get out on bond before trial, reports say.
Defense attorneys William Massey and Lauren Fuchs are said to be representing Isaac. They told a local television station that Isaac was a senior in high school when the murders occurred, that her grades were good, and that she had proclaimed her innocence.
Prosecutors originally tried to charge Isaac themselves; however, a judge threw out the case without prejudice because the judge believed there wasn't probable cause. The next day, prosecutors sought and successfully obtained a grand jury indictment against Isaac.
The defense attorneys said they planned to challenge DNA evidence and eyewitness accounts of the crime.
Have a tip we should know? [email protected]
Aaron Keller - Deputy Editor-in-Chief