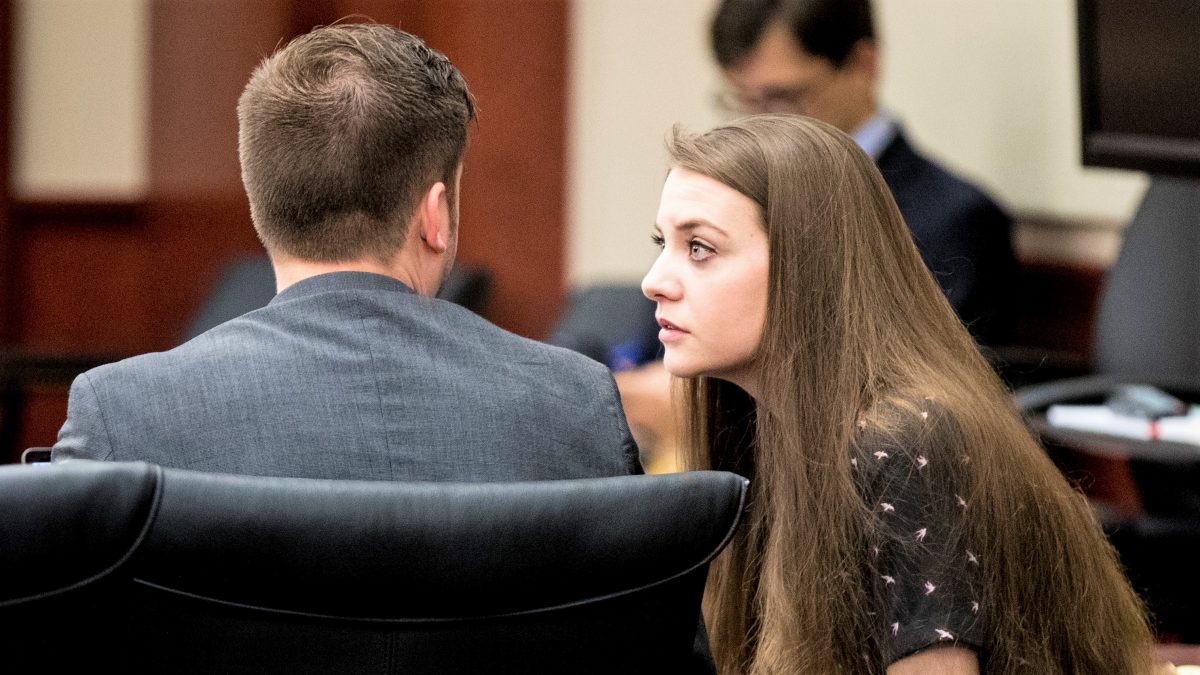 "You are just a horrible attorney," one message said.
"Small dick, bad lay," said another.
Highland Heights, Kentucky Police Chief Bill Birkenhauer testified Monday that those messages among a series either sent by — or believed to have been sent by — accused murderer Shayna Hubers to victim Ryan Poston. Hubers is accused of killing Poston by shooting him six times, including in the face. The latter shot, she said, gave him the nose job he wanted. Poston, an attorney, and Hubers, an undergraduate, had been dating in a relationship both sides in the case have admitted was troubled.
The messages, sometimes sent by Hubers, sometimes sent from other accounts but believed by police to have been from Hubers, are among a cache of electronic data uncoverd by police in the Cincinnati-area murder case. Hubers is currently being tried again for her role in Poston's death. Her first case resulted in a conviction, but Hubers is receiving a new trial due to issues with a juror revealed to have had a felony record in the first case.
One of the messages said, "lose the beer gut and get better at your job."
The message apparently didn't come from Hubers, but police said they found a screen shot of the message in Hubers' phone.
"I texted Ryan this from friend's phone," said an attached text in Hubers' phone. "Check it out."
Poston, friends and relatives testified, had been unsuccessfully trying to break up with Hubers in preparation for a date with someone new: Audrey Bolte, better known Miss Ohio 2012. Hubers shot and killed Poston the evening of his first date with Bolte. Hubers said Poston was going for a gun after an argument with her in his condominium. Hubers got to the gun first and killed Poston in self-defense, she claims. She also claims she finished the job by killing Poston when she saw him struggling in his final moments. Prosecutors think that is a lie and that Hubers killed Poston to prevent anyone else — including Bolte — from having him.
According to Birkenhauer, the electronic records reviewed by police provided the following clues.
Bolte became friends with Poston on Facebook on January 27, 2012. Hubers searched for Bolte on January 29th and again on June 11th. (The Miss USA pageant, in which Bolte competed, was June 3rd.) Hubers apparently again searched for Bolte's photo on October 10th, just two days before the shooting.
As far as communications, Birkenhauer said Hubers sent Poston an astonishing 50,000 to 100,000 messages. Poston would rarely reply. Birkenhauer testified that for every 100 messages from Hubers, Poston would send one.
The messages also revealed what Poston told friends every time he would break up with Hubers.
"She dresses up, looking pretty, and she just shows up . . . she doesn't leave," Birkenhauer said, as he read Poston's messages. Poston's messages revealed he took Hubers back every time they broke up because he "felt bad" that Hubers would cry nonstop.
Evidence photos shown to the jury Monday suggested there was no struggle over the gun, Birkenhauer said. Items and dust in Poston's apartment, where the shooting occurred, were undisturbed, including on the table (where the gun was located) and the television (where Hubers claimed she was thrown by Poston in an altercation before the shooting).
Other messages revealed that Hubers was accessing Poston's Facebook page and blocking people — including women — Poston was messaging.
The cache of messages police uncovered included this one sent by Hubers to a friend:  "I want to shoot him. I don't know why he keeps taking me on dates. I won't turn down learning how to shoot a gun."
Hubers' text messages revealed she likely told Poston a made-up a story about going to Hawaii to visit an ailing relative in the days before Poston's death. There is no evidence she went or that she seriously was considering going. Instead, she was really spending time with her mother, police believe.
On October 12th, Hubers called a modeling agency.  She also searched online for information about unlocking a door with a bobby pin.
Police also said the messages revealed issues with Hubers' claim that Poston's treatment of her left her so upset that she experienced chest pains. Hubers was searching online for information about high blood pressure. She told Poston she was being treated by a doctor and given medication, but there is no evidence that actually occurred, they said.
[Photo via Meg Vogel/The Cincinnati Enquirer/Court Pool Photographer]
Have a tip we should know? [email protected]
Aaron Keller - Deputy Editor-in-Chief