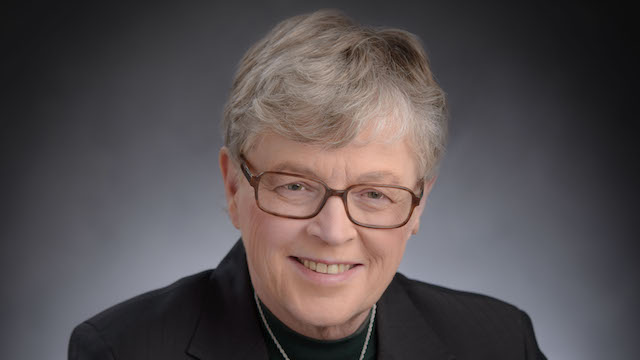 We have watched victim after victim after victim give statements against Larry Nassar, the USA Gymnastics and Michigan State University doctor who admitted to first-degree criminal sexual conduct for abusing at least nine girls. Nassar, MSU, or both face a reported 150 civil cases related to that abuse. The victims' calls for a harsh punishment against Nassar are clear and understandable. Many of the victims, their families, and many observers, are going further. They're basically calling for the president of Michigan State University's head on a platter. The calls intensified after MSU's board chairperson and president Lou Anna K. Simon released these statements Friday:
"Through this terrible situation, the university has been perceived as tone deaf, unresponsive and insensitive to the victims. We understand the public's faith has been shaken. The Board has listened and heard the victims. Today, the Board acted and has asked the Attorney General's Office to review the facts in this matter, and as information is presented, the Board will act. This can never happen again. As part of the Board's oversight authority, we will retain independent external assistance to support our responsibilities to the university community and the public at large. We continue to believe President Simon is the right leader for the university and she has our support."  –Board Chairperson Brian Breslin

"I will continue to appreciate the confidence of the Board and the many people who have reached out to me, and to them, who have the best interest of MSU at heart. I have always done my best to lead MSU and I will continue to do so today and tomorrow." –President Lou Anna K. Simon
As those statements were being uttered, the victims allowed to speak at the Nassar sentencing hearing were literally calling the university the very name it denied being.  Larissa Boyce, the last of the victims to speak this week, accused MSU of being "tone deaf" — though it's unclear whether her words were a jab back at the university's own statement, which was only an hour or two old when she spoke.  Morgan McCaul said Michigan State University was home to "a culture of sexual abuse and perverse, deliberate inaction to hold predators accountable." She called that culture "insulting to the hundreds of survivors like me" because calls by members of congress, survivors, advocates, and others resulted not in change or accountability, but rather a $150,000 raise for the MSU President. William Michell, who identified himself as a pastor and the father of one of the victims, named both Nassar and MSU as the parties which jointly sowed a "destructive, black seed into my innocent daughter's mind and body." Michell said the only path to redemption for Nassar would be to name those at MSU who enabled him to abuse his victims. Michell called on Nassar to further expose the faults in the system which protected him for years.
Social media has been abuzz all week with those incensed by the facts coming out of Nassar's sentencing hearing. The MSU board vote late Friday to reaffirm it's choice in keeping Simon on as leader just infuriated people, and Twitter exploded. Here's just a selection of the fury:
MSU could not handle this crisis any worse if they tried. For 20+ years, protecting themselves has been more important than protecting young women. They are complicit in the sexual assault of 100's of women. Their actions today are stunning in their tone deafness. Shameful.

— Jamie Buchholtz (@jmbuchholtz1) January 19, 2018
Think about these words from Larissa Boyce: "nightmares of MSU silencing me over and over and over again." FIRE LOU ANNA SIMON. FIRE ALL OF THE ENABLERS. Burn this all to the ground. #LarryNassar

— ηι¢к мιℓℓєя (@uncannydazzler) January 19, 2018
The #MSU board of trustees is out of touch with reality. Lou Anna Simon is selfish in not resigning, clearly doesn't care about the integrity of the institution she claims to serve. This isn't about her, its about trust in the institution. https://t.co/c7pqsZTHjJ via @freep

— Nick Wake (@realNickWake) January 19, 2018
Here's a link worth sharing. I don't want a cent of my tax money going to Lou Anna Simon or any of MSU's leadership given this dereliction of leadership and basic decency. https://t.co/08Lbw0wbCO

— Adam (@ManoCornuda) January 19, 2018
The Detroit Free Press had reported recently that fourteen people at MSU knew Nassar was up to no good. In the report, MSU defended itself, saying its investigation ultimately helped lead to the criminal cases against Nassar. President Simon said she was informed in 2014 only that "a sports medicine doctor was under investigation," but said she didn't receive any final report naming Nassar.
The State News, MSU's student newspaper, this week issued an editorial calling for Simon's resignation, along with other "enablers" who protected Nassar. It begins like this:  "If a house is on fire, you don't stay inside. You call the fire department. You put the fire out and then, after mourning the loss and reparations are made, you rebuild." The rest of the language is equally caustic:  "The MSU of old won't resemble the MSU of new. As much as people want to say that's a bad thing, it isn't . . . [t]here is only one way to build this new house, and the people who claim to love it need to understand that."
Simon has been MSU president since 2005.
[Image via MSU.]
Have a tip we should know? [email protected]
Aaron Keller - Deputy Editor-in-Chief