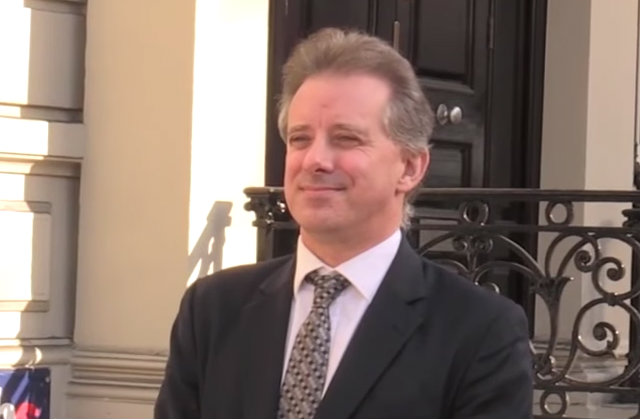 In this week's game of prosecutorial ping-pong, Senators Chuck Grassley (R-Iowa) and Lindsey Graham (R-South Carolina) of the Judiciary Committee wrote a letter to the DOJ and FBI requesting that the agencies initiate a formal investigation of Trump dossier author Christopher Steele.
In the related press release, the senators clarified that the referral was based on Steele's having made potentially false statements about the distribution of claims from the dossier — and was not based on the actual content of the dossier itself.  Further, the senators stated that their referral is "for further investigation only, and is not intended to be an allegation of a crime."
Still, the referral is for investigation of potential violations of 18 U.S.C. § 1001, which, if fruitful would lay the groundwork for Steele to be criminally prosecuted. Let's take a look at the merits of the GOP senators' claims. The relevant portions of 18 U.S.C. § 1001 read:
(a)Except as otherwise provided in this section, whoever, in any matter within the jurisdiction of the executive, legislative, or judicial branch of the Government of the United States, knowingly and willfully—

(1) falsifies, conceals, or covers up by any trick, scheme, or device a material fact;

(2) makes any materially false, fictitious, or fraudulent statement or representation; or

(3) makes or uses any false writing or document knowing the same to contain any materially false, fictitious, or fraudulent statement or entry; shall be fined under this title, imprisoned not more than 5 years or, if the offenseinvolves international or domestic terrorism (as defined in section 2331), imprisoned not more than 8 years, or both. If the matter relates to an offense under chapter 109A, 109B, 110, or 117, or section 1591, then the term of imprisonment imposed under this section shall be not more than 8 years.
This statute is a kind of catch-all provision which makes it a felony to lie to government investigators. It's used frequently by federal prosecutors in a wide variety of circumstances. This is the statute under which Michael Flynn, and George Papadopoulos were prosecuted – and also the same one that nabbed Rod Blagojevich, Bernie Madoff, and Martha Stewart.
What effect will 18 U.S.C. § 1001 have on Christopher Steele? That's unclear at best, but here's what would be required for the kind of prosecution Grassley and Graham are instigating.
Steele must have lied about his distribution of the dossier.
For months now, Republicans have been asking the Justice Department to clarify the role of the dossier and its distribution in relation to the Russia investigation. That dossier may have formed the basis of a surveillance warrant against a Trump campaign associate, and may similarly have been critical in the early stages of the Russia investigation.  Given that the funding for Steele's work came from Fusion GPS, a Clinton-funded political-opposition research firm, many questions loom about the dossier's origin, distribution, and of course, validity.
In conjunction with a lawsuit filed in London, Steele has said he had off-the-record conversations about the dossier with a handful of news organizations.  Although Steele hasn't testified before any congressional committees, he did report having spoken to the FBI about the dossier and its contents in the summer of 2016.  Steele has also been reported to have met with Mueller's team to brief them about the dossier and its distribution, although it seems pretty unlikely that Mueller's team would have shared anything from its investigation with congress at this point.  However, given that much of the information in and surrounding the dossier remains classified, it's not entirely clear what, exactly, Steele might have said that is allegedly untrue. If it can be proven that Steele told the FBI one thing about what he'd done with the dossier, but reported something different in the London lawsuit, that would certainly be problematic.
Whatever lies Steele allegedly told must be "material."
The statute makes quite clear that not all lies are actionable – just those that are "material." Generally speaking, information is "material" if it has the tendency to prove or disprove something at issue – which means that no one in particular need be specifically swayed by the information, but that they could have been. In the case of Steele's dossier,  most of the information contained within would indeed constitute material information, given the context of special counsel Robert Mueller's Russia investigation; whether information about how Steele communicated that information would also be "material" is far less clear.  Theoretically, Steele's account of how and when he distributed the dossier could relate to something akin to a "fruit of the poisonous tree" argument — but without more specifics, it's tough to accurately evaluate materiality.
Steele must have knowingly provided the false information to the government.
To have violated 18 U.S.C. § 1001, Steele needed to have known that any information he provided to the FBI was untrue. Proving knowledge of lies can be a tricky thing in any case, but arguably, if Steele provided misinformation to the FBI about what he'd done with the dossier, he could be exposed to liability.
There is no requirement that a person be aware that his or her lying was illegal; however, Steele, a seasoned British intelligence officer, would certainly have been aware of 18 U.S.C. § 1001, and would have known that such a lie was prohibited. While it is, of course, possible that Steele knowingly handed the FBI a bunch of lies, he could only have done so with the knowledge that the move exposed him to great personal peril.
So where does that leave us? Christopher Steele certainly could wind up in the kind of trouble Grassley and Graham have suggested for him. However, any finding of wrongdoing would hinge on the uncovering of facts that seem speculative at best.
Law&Crime spoke with attorney and national security expert Bradley Moss on the matter, who said:
This Congressional referral might have been issued in good faith, and certainly the claims cannot be cavalierly dismissed. That said, the timing and context – particularly given the President's inflammatory comments about the dossier – raises legitimate concerns that this is little more than a political stunt meant to undermine the credibility of Steele and prop up the President's political and legal defenses.
Procedurally speaking, the referral made by Grassley and Graham is anything but business-as-usual.  Such referrals are typically the products of information uncovered during a congressional investigation which would then be referred to the DOJ for further proceedings.  Here, though, the dossier was handed down by the DOJ, which seems to create a tail-wagging-the-dog situation — or at least a serious anomaly.   At least one congressional aide spoke out to Politico and explained, "They are referring to DOJ a criminal prosecution based on documents DOJ gave them and based on witness testimony to the DOJ."
Byron York of the Washington Examiner opined today on the kind of communication that might be at the heart of the Steele referral:
"One serious question is whether Steele told the FBI that he was telling reporters the same information – those explosive allegations about Trump and Trump associates – that he was bringing to bureau investigators. If the FBI knew that, would they have agreed to an arrangement to make Steele a paid FBI operative investigating the Trump-Russia affair? That would have been a most unorthodox arrangement, with Steele disseminating his allegations to the FBI and the press simultaneously."
Law&Crime will update you with further analysis as details develop.
This story has been reposted with new information regarding the nature of Grassley's referral. 
[image via screengrab/CBS]
Follow Elura Nanos on Twitter: @EluraNanos
Have a tip we should know? [email protected]
Elura Nanos - Columnist & Trial Analyst, Law & Crime; CEO Lawyer Up