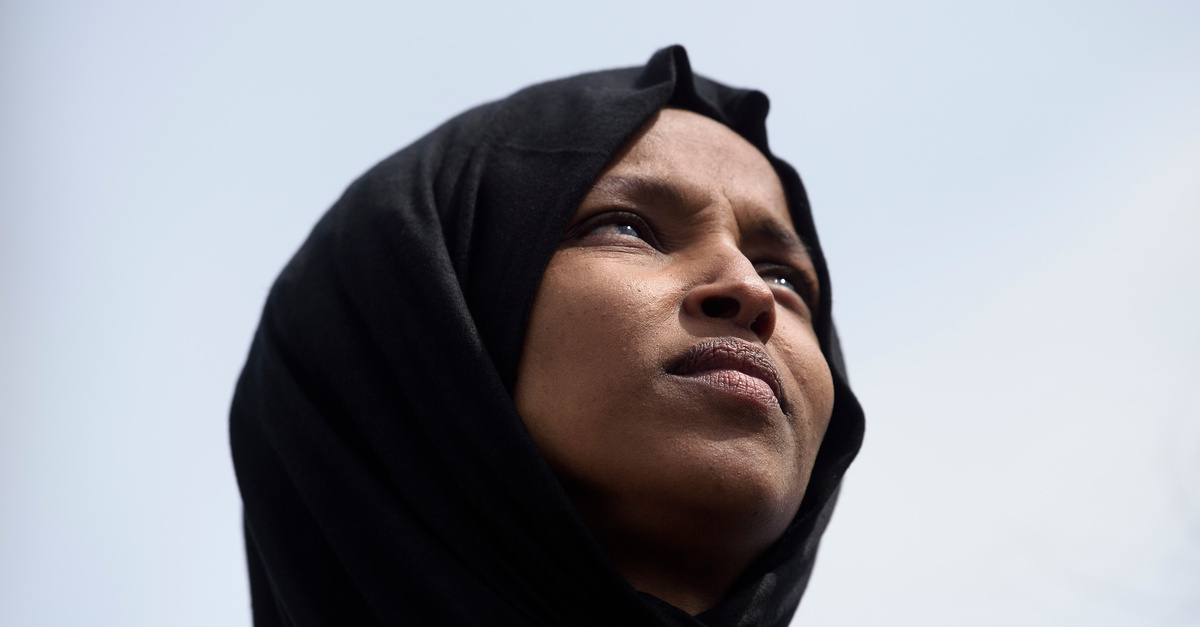 A man from the upper-western half of New York State threatened to kill Representative Ilhan Omar (D-MN) over a false belief that she was a member of the Muslim Brotherhood. The man was identified based on information he supplied to Omar's congressional staffers.
According to the U.S. Attorney's Office for the Western District of New York, 55-year-old Patrick W. Carlineo, Jr. was arrested and charged with threatening to assault and murder a U.S. official.
On March 21, just before 12:30 p.m., Carlineo allegedly phoned Omar's Washington, D.C. office and spoke with one of her staff members.
Per the Department of Justice (DOJ), Carlineo said:
Do you work for the Muslim Brotherhood? Why are you working for her, she's a fucking terrorist. I'll put a bullet in her fucking skull.
After the phone call, Omar's staff contacted the U.S. Capitol Police, Threat Assessment Section, who coordinated their investigation with Federal Bureau of Investigation (FBI) Special Agent-in-Charge Gary Loeffert. The Capitol Police's portion of the inquiry was overseen by Chief Matthew R. Verderosa.
According to the criminal complaint, Carlineo knew what was happening when federal agents came knocking on March 29.
"Carlineo stated that he knew why the FBI wanted to speak to him," the complaint alleges. "Initially, he stated that it was because he said 'if our forefathers were still alive, they'd put a bullet in her head.' He further stated that he was referring to a telephone call that he made to Congresswoman Omar's office."
The filing also describes Carlineo's conservative political outlook.
"Carlineo stated that he was a patriot, that he loves the president, and that he hates radical Muslims in our government," per the FBI.
Carlineo was then shown an e-mailed transcript of his phone call to Omar's office containing what authorities allege was his actual quote. The defendant stood by his story that he referenced America's forefathers and "repeated his original version of events," the complaint notes. "Carlineo stated that Congresswoman Omar supported Hamas and the Muslim Brotherhood, and that her election to Congress was illegitimate."
After that, FBI Special Agent Christina Peklak-Scott told Carlineo that lying to the FBI was a separate crime and advised him that they had a recording of the phone call in their possession. Peklak-Scott then asked Carlineo "what investigators would hear when [they] listened to the recording." At that point, Carlineo's story allegedly shifted again and he said couldn't remember exactly what he said.
FBI agents then asked Carlineo if he had any guns in his house.
"He stated that there are a shotgun and a .22 caliber firearm in the house," the complaint notes. "He initially stated that the weapons belonged to his girlfriend, but later in the interview stated that the guns belonged to him."
Carlineo was eventually arrested; authorities did not specify when.
Codified at 18 U.S.C. §115(a)(1)(B), the federal statute on point here reads, in relevant part:
Whoever…threatens to assault, kidnap, or murder, a United States official, a United States judge, a Federal law enforcement officer, or an official whose killing would be a crime, with intent to impede, intimidate, or interfere with such official, judge, or law enforcement officer while engaged in the performance of official duties, or with intent to retaliate against such official, judge, or law enforcement officer on account of the performance of official duties, shall be punished.
Carlineo faces a $250,000 fine and a maximum of 10 years in prison.
[image via BRENDAN SMIALOWSKI/AFP/Getty Images]
Have a tip we should know? [email protected]