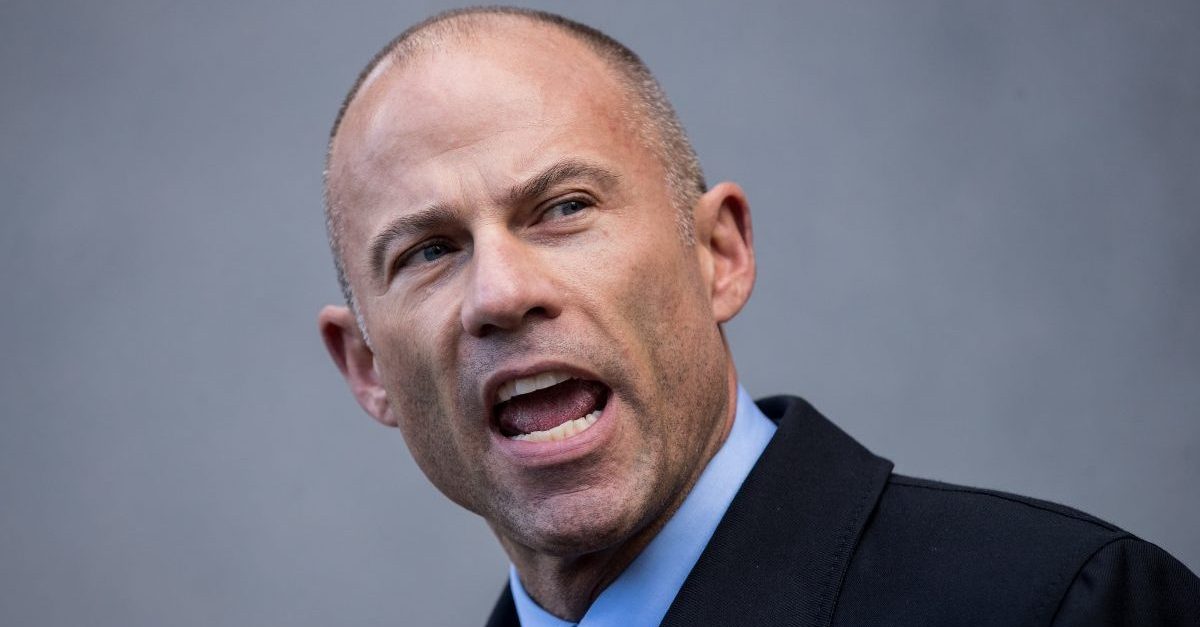 Embattled attorney Michael Avenatti released a series of documents which he said implicates athletics wear giant Nike in a massive scheme to bribe college athletes into attending "colleges" allegedly in league with the company.
"This evidence is now in the hands of law enforcement," Avenatti tweeted on Saturday afternoon. "Nike bribed over 100 players as part of their scheme and purposely hid the payments from the [National Collegiate Athletic Association (NCAA) and federal] investigators."
Avenatti then asserted that Nike had broken several laws:
Nike should be criminally indicted on well over 200 counts and should also explain why they misled their investors/the [Securities and Exchange Commission]. If I'm lying or the docs are not legit, I challenge @nike to issue a [statement] claiming no bribes were ever paid. Just Do It Nike!
"I'm still waiting for @nike to call me a liar and state they have not been bribing players for years to go to 'Nike' colleges in violation of countless federal criminal statutes," Avenatti tweeted earlier Saturday morning before the document dump.
The file titled "Nike corruption" is some 41-pages long and contains 10 distinct "actions" which Avenatti claims are evidence of crimes allegedly committed by Nike Elite Youth Basketball executives Carlton DeBose and Jamal James which were then allegedly "carried-out on Nike's behalf by Gary Franklin/California Supreme Youth Basketball."
The first allegation concerns eventual number one draft pick–selected by the Phoenix Suns–Deandre Ayton. According to Avenatti, a "$28,000 bank-wire payment [was made] on 4/4/2016 to Melvin McDonald, Nike [Elite Youth Basketball] player DeAndre Ayton's 'handler,' via McDonald's non-profit 501c3, American All-Star Basketball."
To support the accusation, the document drop contains a purported screen shot of the above-referenced wire transfer in the amount of $30,000 in order to allegedly "cover [the] same-day $28,000 wire payment" to McDonald as well as a purported screenshot of a "Bank of America statement [which] confirms [the] $28,000 bank-wire payment" allegedly made to McDonald's non-profit. Both payments appear to have been made on the same day: April 4, 2016.
Avenatti previously identified DeBose as one of the alleged members of the bribery scheme in a series of tweets on Friday evening.
"Carlton DeBose, a Nike executive, has bribed over 100 high school players over the last [four] years to play college basketball at colleges affiliated with Nike as opposed to other schools. He has used bogus invoices and countless coaches to further the scheme [and] deliver the [money]," Avenatti tweeted.
"Nike's most senior execs knew about it and looked the other way, as did many of the colleges. Nike also undertook large efforts to hide it from the NCAA [and] federal investigators. Some colleges lost out on some of the best high school recruits because of Nike's bribes," the indicted attorney continued.
As Law&Crime previously reported, Avenatti was alleged to have threatened Nike with reputational harm if they didn't play ball with him–and pay out some $20 million–over the alleged bribery scandal. He was eventually arrested and charged with Conspiracy to Commit Interstate Communications with Intent to Extort, Conspiracy to Commit Extortion, Transmission of Interstate Communications with Intent to Extort, and Extortion.
Nike responded to the allegations in a statement provided to Law&Crime:
Nike will not respond to the allegations of an individual facing federal charges of fraud and extortion and aid in his disgraceful attempts to distract from the athletes on the court at the height of the tournament.  Nike will continue its cooperation with the government's investigation into grassroots basketball and the related extortion case.
Attempts to contact Avenatti for additional details went unanswered. This space will be updated if and when any such replies are received.
[Image via Drew Angerer/Getty Images]
Editor's note: this story has been amended post-publication to include a response from Nike.
Have a tip we should know? [email protected]