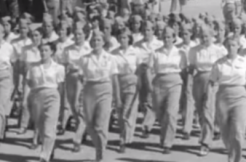 The U.S. Senate has passed a bill that would make World War II women pilots eligible for inurnment at Arlington National Cemetery, according to a Wednesday statement from Congresswoman Susan Davis.
"I am thrilled to see the Senate pass the WASP Act," Davis said. "These amazing women who helped win World War II deserve access to Arlington Cemetery and the full honors we give our war heroes. It is an injustice that they are being denied access to Arlington, which has always been considered a special place of honor. If you are laid to rest in Arlington, it is known that you sacrificed to protect and preserve our democracy."
It has now been sent to the House of Representatives. If it's approved, all it needs is the President's signature to become law.
During World War II, the WASPS—Women Airforce Service Pilots—flew non-combat missions for the United States Army Air Forces (which would later become the current U.S. Air Force). About 25,000 women applied, but just above 4 percent were chosen to serve.
Of the 1,830 woman who were selected for ,Women #AirForce Service Pilots 1,074 graduated and flew 60 Mil miles during #WWII #TriviaTuesday

— U.S. Air Force (@usairforce) March 8, 2016
38 died as part of the WASP. During the war, there were not given active duty status.
"If a girl got killed, her parents didn't get anything, not even a flag—nothing," said Barbara Erickson London, a WASP, according to CBS. "Not even any acknowledgement that their daughter had been in the military."
In a 2014 report, filmmaker Jill Bond told CBS there were less than 200 WASPs left.
In 2002, Arlington National Cemetery said WASPs were eligible for inurnment there since they were retroactively granted active duty status in 1977. However, then-Secretary of the Army John McHugh overturned this in 2015. If the bill is enacted, it would reverse his decision.
[screengrab via U.S. Department of Veterans Affairs]
–
Follow Alberto Luperon on Twitter (@Alberto Luperon)
Have a tip we should know? [email protected]