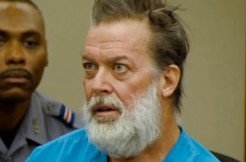 Robert Dear, who was arrested for shooting up a Colorado Planned Parenthood, has been declared mentally incompetent to stand trial.
Judge Gilbert Martinez made the decision on Wednesday after listening to two state psychologists who analyzed Dear, according to The New York Times. One claimed Dear suffered from several delusions, he even claimed "the feds" had planted a bug on his truck.
Dear would be treated at a state mental hospital until he's found capable of standing trial.
Dear will now undergo in-patient restoration treatment. A written review of his mental health is due on Aug. 11, 2016.

— Jordan Steffen (@jsteffendp) May 11, 2016
But Dear was livid, even though his defense team got the result they wanted.
As he was lead out Dear yelled at the judge, "That's called prejudiced! Prejudiced! Fifthly animal!"

— Jordan Steffen (@jsteffendp) May 11, 2016
At a December 9 hearing, Dear admitted to comitting the shooting, with multiple outbursts in court. He has called himself a "warrior for the babies," even accusing his public defenders of conspiring with Planned Parenthood. He even tried to fire his attorneys, prompting the judge to initiate the mental competency hearings. According testimony at an April hearing, Dear told one detective he didn't want to be found mentally incompetent since it would undermine his anti-abortion message.
He faces charges after reportedly shooting up a Planned Parenthood in November. Three people were killed, and nine were injured.
[screengrab via Colorado Springs Gazette / YouTube]
–
Follow Alberto Luperon on Twitter (@Alberto Luperon)
Have a tip we should know? [email protected]