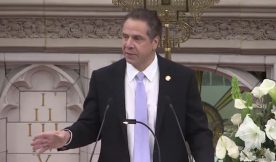 Governor Andrew Cuomo ended child marriage in New York by signing legislation that will change the age of consent from 14 to 18, overruling a the previous law for consent passed in 1929.  The process for judicial and parental approval for marriages involving 17 and 18 year-olds was also amended.
"This is a major step forward in our efforts to protect children and prevent forced marriages, and I am proud to sign this legislation that puts an end to child marriage in New York once and for all," Cuomo said of the law in a press release.
The prevalence of child marriages in the United States is staggering: health department data for New York say 3,853 minors were married between 2000 and 2010 in New York alone, eighty-four percent of which involved female minors marrying adult men.  Unchained At Last, a nonprofit group aimed at aiding women trapped in force marriages, reported that in 38 states where data was available, over 160,000 children were married in the same ten-year span, with some of the children marrying as young as twelve. Twenty-seven U.S. states do not have minimum age of consent laws for marriage, meaning that a child of any age can theoretically marry with judicial confirmation.
"We cannot solve the child marriage problem globally if we don't first solve it here in the United States," executive director and founder of Unchained At Last Fraidy Reiss said in an interview on the issue with CBS.
[Image via screengrab]
Have a tip we should know? [email protected]