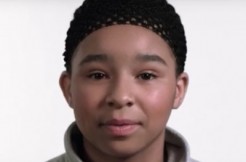 Videos posted to YouTube on Saturday show children sending their love to imprisoned mothers. Called #LoveLetters, the initiative seeks to put a light on the damage mass incarceration does to families.
"When I visited women's prisons, I saw how broken women prisoners were because almost all were mothers to small children," wrote lawyer Malika Saada Saar in a statement released Saturday. She is Google's Public Policy and Government Relations Senior Counsel, and formerly worked with women prisoners as a human rights lawyer. "Few received visits from family or children because of how remote women's prisons usually are. When children did visit, some weren't allowed to hug or touch their mothers."
She said 2.7 million American kids have at least one parent behind bars, with black children 7.5 times more likely to be affected than white children.
A slew of organizations are contributing to #LoveLetters and its goal. Google helped by giving funds to the Essie Justice Group, the Ella Baker Center, and the Equal Justice Initiative, which are all linked to the project.
"You are a wonderful mother," a girl named Aliyah said in one video published by Hour Children Inc, an organization that supports children with incarcerated moms. She's close to crying during part of the footage. "I love you and miss you, and I can't wait until you finally come home. I miss your smile, and I miss your hugs."
Another video depicts actress Rosario Dawson reading on behalf of another child.

The Osborne Association, a nonprofit that facilitates convicts returning to society, is also linked to #LoveLetters.
While the United States has 5 percent of the world's population, it has 25 percent of all prisoners, according to the NAACP. Politifact and The New York Times looked over research that made similar findings.
[screengrab via Hour Children Inc]
–
Follow Alberto Luperon on Twitter (@Alberto Luperon)
Have a tip we should know? [email protected]