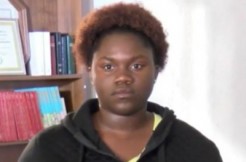 A North Carolina high school student was suspended for possession of drugs after investigators said her hand smelled like marijuana. But school officials allegedly never found drugs, and she purportedly passed a drug test after the fact. Now she's fighting the allegation.
15-year-old Jakayla Johnson said she was in Chinese Class at Garner Magnet High School when it all started, according to a report by WNCN. The school resource officer stepped into the class, claimed they'd smelled marijuana from the hallway. The investigator picked out Johnson after five minutes of searching the classroom.
"I was feeling embarrassed because they called me out of everybody," Johnson said. She was reportedly told to spread her fingers, which were then smelled. She said she was brought to the office, and patted down. Her book bag and shoes were also searched.
No drugs were discovered, and yet she was suspended anyway. Five days out of classes, unless she didn't take a drug course, in which case she'd miss the rest of the school year.
The school's rationale for her suspension?
"It was explained to Jakayla that for her hands to smell so pungently of marijuana she would have to have possessed it in her hands at some recent point in time," said a Wake County School document viewed by WNCN.
Johnson's mom, Tameka, fought the claim. That same day, she took her daughter to a lab for a medical test. Johnson passed.
Mom told WNCN she showed the test results to school administrators, demanding an apology and an ending to the suspension. She didn't get anything. She said administrators admitted to checking the "possession" box on official documents because there was no better option.
In a statement to WNCN, Wake County schools said school officials have a lot of flexibility in investigating allegations that a student possesses drugs, but they didn't specifically comment on the controversy.
Johnson's mom said she worried the allegation would hurt her daughter's future. It already caused its share of damage, as the kid said she's fallen behind at school, having missed three tests. This family is taking their fight to the school board, with an appeal scheduled for May 18.
[screengrab via WNCN]
–
Follow Alberto Luperon on Twitter (@Alberto Luperon)
Have a tip we should know? [email protected]