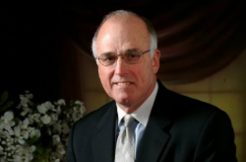 During a Monday interview, a famous pastor blasted the Supreme Court's same-sex marriage ruling. Rick Scarbourgh, the founder and president of Vision America, called the decision unconstitutional, but he also went one step further. He claimed the case made it "unlawful and illegal" for Christians to serve in federal courts, and the military.
From his talk with the American Pastors Network:
As you know, this whole transgender assault on biblical marriage and on just sane morality is on pastors to finally see that this hits home. It effects them. What I'm trying to tell pastors, what I'm urging pastors to understand is that we already have, in effect, because of the godless ruling of the Supreme Court, where five unelected judges—actually five unelected lawyers according to Judge [John] Roberts—inserted themselves as writers of law (not interpreters of law) when they implemented by judicial fiat, the travesty of same-sex marriage upon the country. Suddenly, they literally made it unlawful and illegal for Christians to hold positions on the federal courts, those with biblical values to serve in various places in the military. They're literally being drummed out on the basis that their biblical values are counter to the Constitution as written by these five unelected lawyers. [Emphasis ours]
Obergefell v. Hodges is the 2015 Supreme Court case that legalized same-sex marriage nationwide. In a 5-4 ruling, Justices held that the Fourteen Amendment required states to acknowledge marriage licenses from other states regardless as to whether it was a same-sex coupling.
"Same-sex couples are denied benefits afforded opposite-sex couples and are barred from exercising a fundamental right," the opinion states.
Chief Justice John Roberts dissented saying the ruling was an "act of will, not legal judgement" and that they should've let it play out through "the democratic process":
"Five lawyers have closed the debate and enacted their own vision of marriage as a matter of constitutional law," he wrote. "Stealing this issue from the people will for many cast a cloud over same-sex marriage, making a dramatic social change that much more difficult to accept."
The ruling doesn't ban Christians from serving on federal courts or in the military, and the author of this article is unaware of any U.S. law or case law that establishes such a rule. And also, to be clear, it doesn't necessarily have anything to do with transgender people, just the matter of same-sex marriage.
Obergefell v. Hodges did spark resistance, however. Some public officials and judges, citing religious beliefs, have refused to follow the Supreme Courts' ruling. Kim Davis, a county clerk from Kentucky, famously refused to issue same-sex marriage licenses, and she was later jailed for contempt of court. Another clerk out of Florida, Yanicka Parker, reportedly did likewise, and has sued her former employer. And Alabama Supreme Court Chief Justice Roy Moore was recently suspended for allegedly telling probate judges to deny same-sex couples their marriage licenses.
[h/t Right Wing Watch]
[image via Vision America media kit]
–
Follow Alberto Luperon on Twitter (@Alberto Luperon)
Have a tip we should know? [email protected]