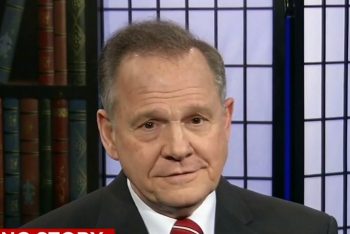 Alabama Supreme Court Justice Ray Moore has been suspended for the remainder of his term over charges that he has willingly defied the U.S. Supreme Court's decision to legalize gay marriage.
The Associated Press broke the news on Twitter just before noon on Friday.
BREAKING: Alabama judicial court suspends chief justice Roy Moore for rest of term over his defiance of gay marriage.

— The Associated Press (@AP) September 30, 2016
According to the report, the decision handed down by the Alabama Court of the Judiciary found Justice Moore tried to get probate judges to deny marriage licenses to gay couples, even after the Supreme Court decision in 2015.
At the hearing earlier this week, Justice Moore continued to adamantly deny the charges, saying, "I would not defy any federal court order."
Although Justice Moore was not formally removed from the office, the decision essentially serves to keep him off the bench for the remainder of his term.
This is the second time Justice Moore has been suspended from the bench.  In 2003, he was suspended over charges that he refused to remove a granite Ten Commandments monument from the state judicial building in defiance of a federal court order.
Have a tip we should know? [email protected]