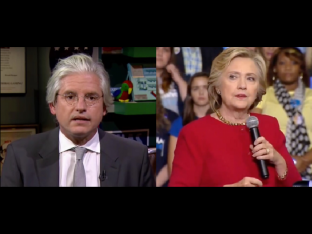 The Campaign Legal Center filed a complaint with the Federal Elections Commission on Thursday that accuses the Clinton Campaign of illegally coordinating with David Brock's Super PAC Correct the Record.
The CLC's complaint alleges Correct the Record has made $5.95 million in in-kind contributions in the form of coordinated expenditures that were accepted by the Clinton campaign.  The complaint alleges such contributions violate the Federal Election Campaign Act ("FECA"), 52 U.S.C. § 30101, et seq., and Commission regulations.
The Correct the Record super PAC was founded in 2015 by David Brock to act as a rapid response team in support of Hillary Clinton's run for the presidency.  Brock is a longtime Clinton supporter and founder of the left-wing media watchdog group Media Matters. To support the Clinton campaign, Correct the Record launched the "Barrier Breakers 2016" project.  According to a press release, the project created "digital task force" to "push back" against negative stories and comments about Clinton posted by users on Twitter, Facebook, Reddit and Instagram.
According to the CLC, Correct the Record has openly acknowledged that it coordinates with the Clinton Campaign.  The complaint quotes a 2015 Washington Post report that said, "Correct the Record believes it can avoid the coordination ban by relying on a 2006 Federal Election Commission regulation that declared that content posted online for free, such as blogs, is off limits from regulation."
However, the CLC asserts that Correct the Record is not just some volunteer blogging operation.  Rather, the complaint states, "Correct the Record is a $6 million Washington D.C.- based political committee that spends millions on opposition research, message development, surrogate training and booking, professional video production, and press outreach for the benefit of the Clinton campaign—and by its own admission, does so in full coordination with the Clinton campaign."
"Because Correct the Record is effectively an arm of the Clinton campaign, million-dollar-plus contributions to the super PAC are indistinguishable from contributions directly to Clinton – and pose the same risk of corruption," CLC wrote in a press release announcing the filing of the complaint.
We have reached out to Correct the Record and the Clinton campaign and will update this article when we receive a response.
In addition to filing a complaint against the Clinton campaign, the CLC also filed an FEC complaint that alleges illegal coordination between two super PACs and the Trump campaign on Thursday. You can read more about that complaint HERE.
"We have been forced to file these complaints because a dysfunctional FEC has been sitting idly by as the campaigns of the presidential candidate of both major parties are involved in unprecedented coordination with super PACs in violation of the law," said Larry Noble, general counsel for the Campaign Legal Center.
Editor's Note:  This article has been updated to provide additional information about the complaint filed against the Trump campaign. 
READ the complaint:
10-06-16 Correct the Record+Clinton final by LawNewz on Scribd
Have a tip we should know? [email protected]