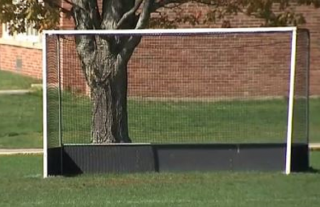 The girls' soccer team at Pentucket High School in Massachusetts will be short-handed after sixteen of their members were suspended for allegedly underage drinking. But here's the real kicker: they supposedly did it in a police chief's house.
School Superintendent Jeff Mulqueen told the Boston Globe that the students violated the school athletic association's chemical health policy, but would not go into detail. Boxford Police Chief James Riter acknowledged that there was drinking going on, but he didn't provide the booze. Riter has two daughters who are on the soccer team, and they hosted a sleepover for other players.
Riter said he and his wife don't keep alcohol in the home, and that they tried to keep an eye on the situation. "My wife and I checked on them continuously," he told the Globe. Despite this, he claims, someone smuggled a bottle of vodka into the house. According to WFXT, one of the students took a picture and posted it on social media, and then the school found out.
While not all of the students were drinking, Riter acknowledged that just being in a place where drinking is going on is against the rules. He says his daughters and their teammates now have to face the consequences. "If the school is going to put these rules in place, they have to follow them and take responsibility for their actions."
[Screengrab via WFXT]
Have a tip we should know? [email protected]