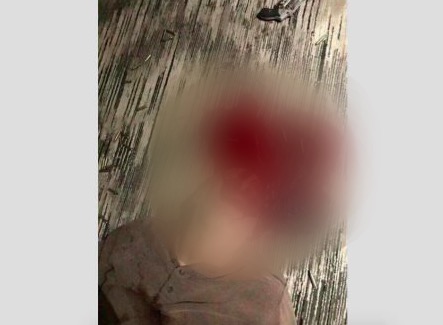 As graphic images (like the one above) of the suspected Mandalay Bay massacre gunman Stephen Paddock circulate across the internet, the question of who is leaking those crime scene photographs has become a point of concern for Las Vegas investigators.
In a press conference last night, Las Vegas Metropolitan Police Department Undersheriff Kevin McMahill noted:
"There was a question about the validity of the crime scene photos that somebody had leaked. I can confirm those are, in fact, photos from inside of the room; they are in fact photos of our suspect, and as the sheriff mentioned previously, we have all opened up an internal investigation to determine the source of the leaks of those photos to the public."
EXCLUSIVE: photo from inside #MandalayBay shooter's hotel room shows gun, ammo, hammer, bipod, optics @boston25 pic.twitter.com/4B2iRhquq5

— Jacqui Heinrich (@JacquiHeinrich) October 3, 2017
As leaks from major investigations have become a fact of life for municipal police departments, LawNewz wondered what penalties those leakers might find themselves subject to. While a cursory foray into the niceties of the Nevada Revised Statutes turned up no particular state laws on point here, previous high-profile leaks made by those within or close to police departments may offer a bit of insight.
In 2009, photographs of pop star Rihanna were leaked by (now former) Los Angeles Police Department ("LAPD") officer Rebecca Reyes. Rihanna had recently been attacked during a domestic violence incident with then-boyfriend Chris Brown and the investigation was still underway as the photos made their way to the press, starting with TMZ. LAPD higher-ups then made it their business to find out who had taken and leaked the photos. After an administrative hearing and appeal, Reyes lost her job–while escaping criminal prosecution.
In 2016, following the terrorist attack at the Ariana Grande concert in Manchester, England, crime scene photographs made their way to the front page of the New York Times. British investigators were furious and pinned the blame on U.S. law enforcement. President Donald Trump echoed that fury, calling for an official investigation. It's unclear what that investigation determined–or if one even occurred. However, the fallout from those leaks was so great that British intelligence began withholding information from their U.S. partners for at least a brief period of time. And anyone on the receiving end of a U.S. government investigation into leaks would probably fare none too well. Just ask Chelsea Manning (or Reality Winner—or the 12 other people prosecuted by Barack Obama for leaking) about that.
All this is to say that the leaker of the Paddock photographs–even if they're not found guilty of an actual crime–likely won't receive anything approaching leniency if and when their identity is discovered. And that could be sooner than later.  Las Vegas Metro Police Department also has an internal affairs department which investigates situations like this, and an internal process for doling out any potential discipline including suspension and/or termination.
At last night's press conference, McMahill also pleaded with the press for "patience," noting that no one wanted a speedier resolution than police and the victims' families. He said, "We're days away from the completion of the processing of the room [at Mandalay Bay]."
For an FAQ promoted by the Las Vegas Metropolitan Police Department, see here.
[image via screengrab]
Follow Colin Kalmbacher on Twitter: @colinkalmbacher
Have a tip we should know? [email protected]