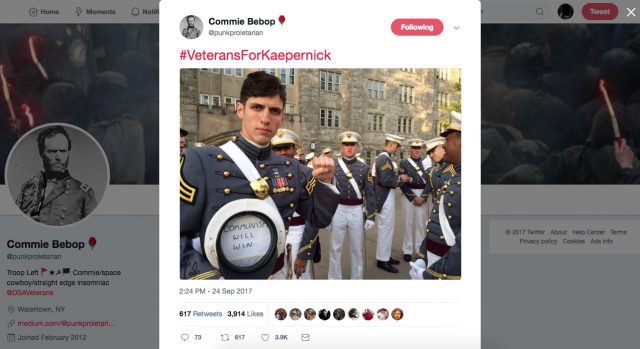 Lieutenant Spenser Rapone–a West Point graduate and avowed Communist–is currently being investigated by the Department of Defense for posts on social media which show the left-wing Infantry Officer in uniform while making political statements.
Late last month, Rapone took the internet–particularly the MAGA set–by storm when he posted a pair of viral images on Twitter announcing "Communism Will Win" and "Hasta la victoria siempre."
The first phrase was taped inside of his West Point uniform cap, while the latter phrase–commonly attributed to Marxist revolutionary leader Che Guevara–was the caption to a photograph of Rapone wearing a Guevara t-shirt underneath his half-buttoned uniform. In both photos, Rapone's Combat Infantryman Badge–signifying that he's fought in active ground combat–was visible as well.
Following the avalanche of press, Rapone was placed on a monitoring regime–allegedly for his own safety–and an investigation was commenced. The exact contours of that investigation are presently unclear, however, Lt. Rapone reportedly remains in high spirits.
And, now he's got some outside help and support. A press release issued by the Democratic Socialists of America ("DSA") Legal Working Group, reads, "We stand in solidarity with Lieutenant Spenser Rapone and all those who have put themselves at risk in furtherance of racial justice. Lt. Rapone follows in a proud tradition of leftist activism within the ranks of the United States military, one that reaches all of the way to the founding of the United States."
The Democratic Socialists go on to castigate the "double-standard to which Lt. Rapone is being held." The press release continues:
Putatively, Lt. Rapone is being investigated for making political statements while in military uniform; yet, during President Donald Trump's inaugural address, numerous military personnel appeared directly behind him, in full uniform, and in ostensible support of his political message. Even more recently, President Trump ordered members of the military to support the Republican agenda. As the politically-motivated investigation of Lt. Rapone continues, it is also worth noting that Lt. Gen. H.R. McMaster continues to hold his active duty post in the military even as he serves in the Trump administration.
An older and similar case provides some insight into what Rapone might face in the future. In 2012, Army reservist Spc. Jesse Thorsen appeared on stage at a rally for Congressman Ron Paul (R-TX), as the libertarian-ish representative was running for president. Thorsen was investigated by the Department of Defense and ultimately given a reprimand which was placed in his personnel file.
LawNewz reached out to the DSA Legal Working Group for comment on the press release and any additional information. Lt. Rapone is currently being represented by DSA member Noah Baron, a civil rights attorney, who is conferring with other attorneys familiar with military law, and has also retained a military attorney associated with Trial Defense Services.
[image via screengrab]
Follow Colin Kalmbacher on Twitter: @colinkalmbacher
Have a tip we should know? [email protected]