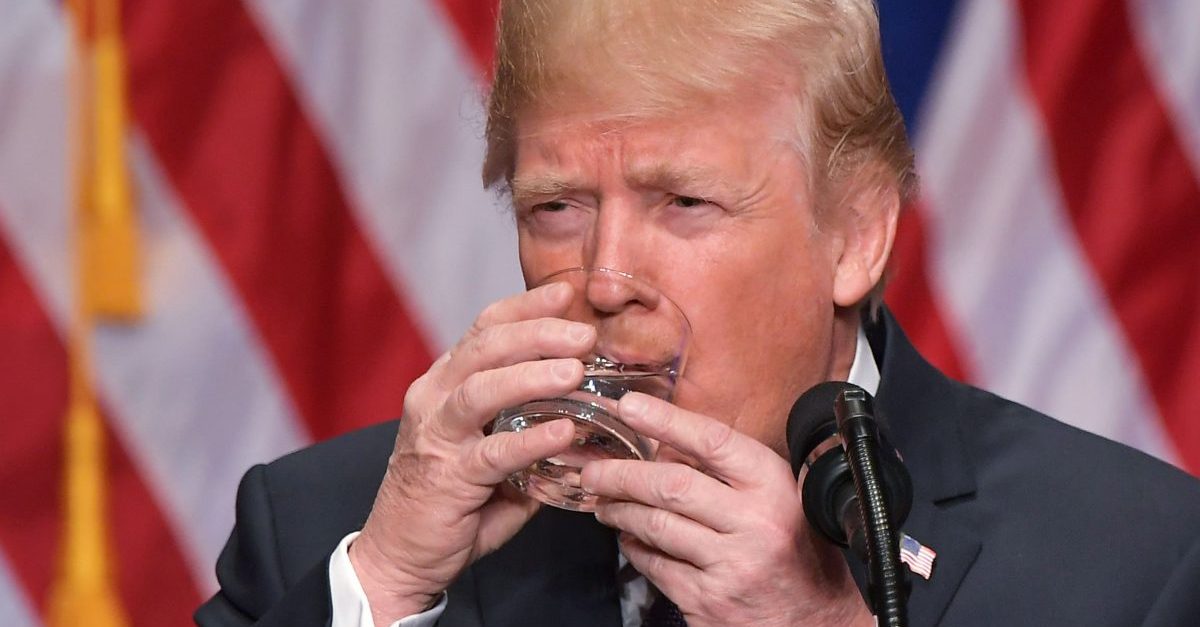 Before Special Counsel Robert Mueller's report was released, there were rumblings that former and current White House officials were uneasy about the idea of President Donald Trump reading the report and discovering who ratted on him. It's not clear if former White House counsel Don McGahn could be included among these concerned individuals, but his interactions with the president were of great interest.
Mueller revealed that, on one occasion, McGahn declined to carry out the president's orders so as to prevent a "Saturday Night Massacre." In other words, figures like McGahn played no small role in Mueller's findings related to the obstruction of justice issue. On another occasion, as Law&Crime noted Thursday, McGahn and Trump got into what we described as a silly argument about lawyers, note-taking, and not measuring up to Roy Cohn.
Trump clearly saw that detail in the report and didn't let it slide on Thursday:
Statements are made about me by certain people in the Crazy Mueller Report, in itself written by 18 Angry Democrat Trump Haters, which are fabricated & totally untrue. Watch out for people that take so-called "notes," when the notes never existed until needed. Because I never […] agreed to testify, it was not necessary for me to respond to statements made in the "Report" about me, some of which are total bullshit & only given to make the other person look good (or me to look bad). This was an Illegally Started Hoax that never should have happened…
Ignore the "total bullshit" and pay attention to "Watch out for people that take so-called 'notes.'"
As Law&Crime reported before, in one passage of the Mueller report, Trump asked why McGahn told Mueller that he told him to have the Special Counsel removed. McGahn said that he couldn't hide behind attorney-client privilege in this case. "What about these notes?" Trump responded. "Lawyers don't take notes. I never had a lawyer who took notes." It's worth mentioning that ex-Trump lawyer Michael Cohen actually recorded conversations he had with the president.
McGahn said that a "real lawyer" takes notes and Trump said great lawyers like Roy Cohn never took notes. "I've had a lot of great lawyers, like Roy Cohn. He did not take notes," Trump said.
Harvard Law Professor emeritus Alan Dershowitz once described Cohn this way: "Roy Cohn was the quintessential fixer. It wasn't what he knew; it was who he knew. He knew everybody. He knew every judge; he knew every justice. He knew everybody who had any influence on the judiciary, and you hired him to get access."
As some quickly noted, Cohn was a Mafia lawyer, a lawyer for Joseph McCarthy, and a lawyer for Trump who was eventually "disbarred in 1986 by a five-judge panel in New York for misappropriating client funds, compelling a client to change his will (and name him a beneficiary), and lying on his bar application." Cohn has also been dubbed "McCarthy's henchman" and a Trump mentor.
Trump advising the public to watch out for note-takers is, in a way, just more praise of Cohn and more criticism of McGahn. The resurrection of Cohn in the public discourse began recently with criticism of Attorney General William Barr, who was likened to Cohn and seen as a Trump henchman.
[Image via MANDEL NGAN/AFP/Getty Images]
Have a tip we should know? [email protected]