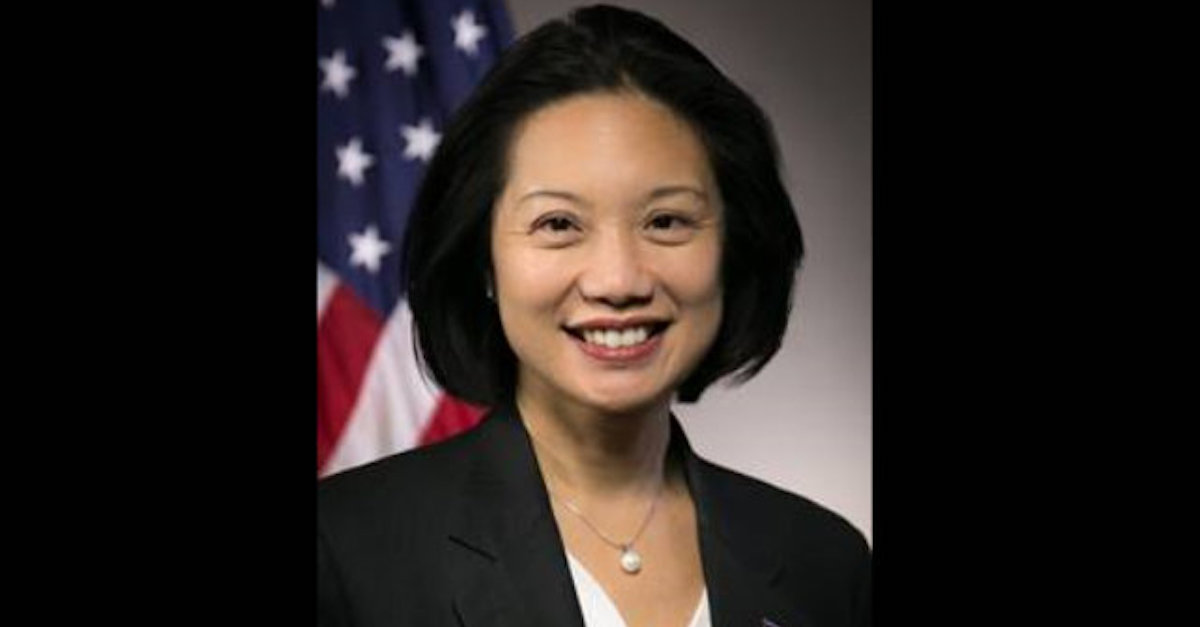 President Donald Trump is nominating veteran federal prosecutor Jessie K. Liu to the associate attorney general position, meaning that Liu would be one of newly-minted Attorney General William Barr's top deputies at the Department of Justice. The position is no. 3 in the DOJ hierarchy.
Liu was confirmed to the position of United States Attorney for the District of Columbia in Sept. 2017. If you have been following the Maria Butina case in D.C. and read some of the filings you would have seen Liu's name on government filings. Most recently, Liu's name popped up again in a filing in which special counsel Robert Mueller took measures to prevent Roger Stone from following in the footsteps of accused Russian troll farm Concord Management and Consulting LLC.
Mueller and Liu requested that the District Court issue an order that would "ensure the confidentiality of personal information and discovery that are included within the materials to be produced by the government pursuant to its discovery obligations."
The motion said that such a measure was "essential to permit the United States to provide discovery to the defendant, while protecting, among other things, personal information and other confidential materials."
In June 2018, Liu was involved in the prosecution of a man who allegedly threatened to kill Bernie Sanders and Kamala Harris.
Liu, the daughter of Taiwanese immigrants, worked as an assistant U.S. Attorney in D.C. before she became U.S. Attorney in the same district. That was from 2002-2006. She excelled at prosecuting violent crime, drug trafficking and fraud.
This leaves the DC U.S. Attorney office open. Recall that Trump has taken the unusual measure of personally interviewing candidates for U.S. Attorney offices in DC and NY . . . where his businesses "are most likely to face legal jeopardy." https://t.co/wqIKsbPBiC https://t.co/yqX5fRFZtU

— Walter Shaub (@waltshaub) March 5, 2019
Liu's government bio reveals that she has also been a partner at law firms Morrison & Foerster LLP and Jenner & Block LLP. There her practice "focused on litigation, investigations, and compliance." The Harvard undergrad and Yale Law School grad will be "oversee[ing] the department's civil work, including antitrust and civil-rights matters, and all litigation defending the government including the president's decisions," the Wall Street Journal reported.
The Journal also noted that the D.C. prosecutors Liu oversaw have often been "involved in politically sensitive investigations, including several connected to special counsel Robert Mueller's investigation into possible Trump campaign ties to Russian interference in the 2016 presidential election."
To get a sense of how high-up a position this is, it was suggested that if Liu was around when circumstances were different, she might have taken over the Russia probe in the event that Deputy Attorney General Rod Rosenstein was fired or resigned from his post.
As you can see from the DOJ's publicly available organizational chart, the Associate Attorney General is right next to the Solicitor General on the depth chart under the Deputy Attorney General.
Former acting Attorney General Matthew Whitaker notably left the DOJ over the weekend after a brief stint in the Office of the Associate Attorney General, where there has been turnover in recent months.
As an aside, the Journal noted, Liu is going to be doing a job Rudy Giuliani once did during the Reagan years.
Ronn Blitzer and Alberto Luperon contributed to this report.
[Image via Department of Justice]
Have a tip we should know? [email protected]