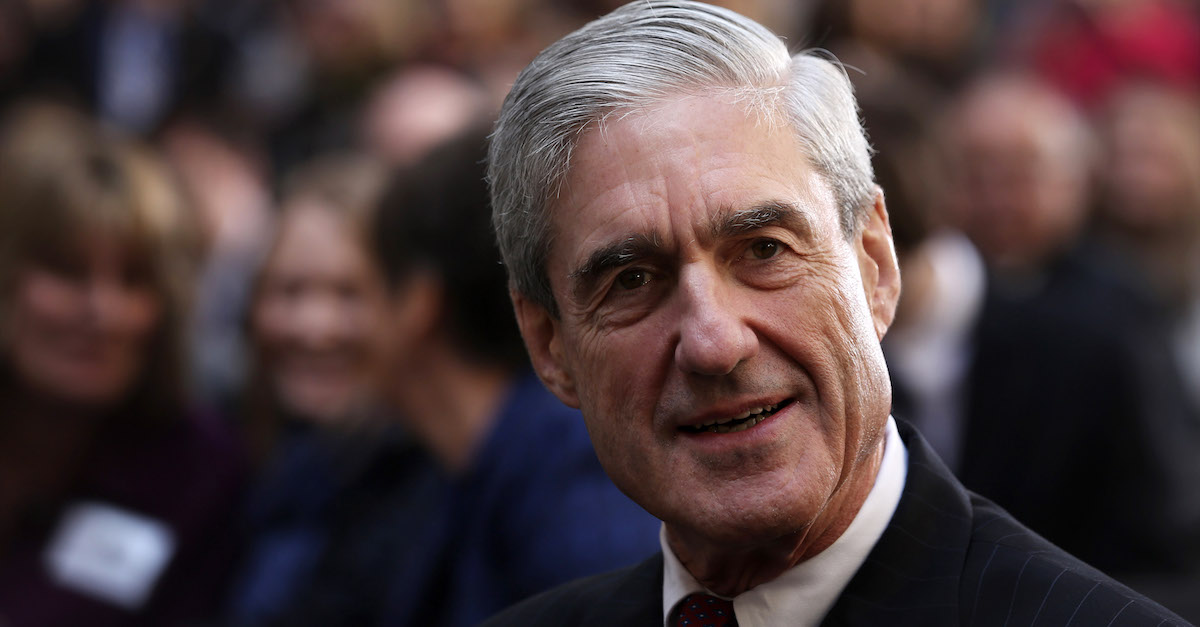 After it was reported on Sunday that WikiLeaks had sent out a lengthy list of statements it considers defamatory, the "confidential legal communication" has been leaked online. The list, which begins by crediting WikiLeaks founder Julian Assange with publishing "the largest leaks in the history of the CIA, State Department, Pentagon, the U.S. Democratic Party etc.," says Assange's leaking explains the existence of many "falsehoods" against him.
One subject that repeatedly came up was Special Counsel Robert Mueller's Russia investigation. Each sentence was prefaced with,"It is false and defamatory to suggest," so they are essentially denials.
"It is false and defamatory to suggest that WikiLeaks or Julian Assange has ever been contacted by the Mueller investigation."
This one is pretty straightforward. Assange claims that Team Mueller has never contacted him or WikiLeaks, which is interesting when you consider that WikiLeaks has been at the center of the investigation into Russian interference in the 2016 election. It was, of course, WikiLeaks who published emails damaging to the DNC and the Hillary Clinton campaign before the 2016 election — emails that were allegedly hacked by Russian military intelligence officers posing as Guccifer 2.0.
Then there is the alleged Jerome Corsi, Roger Stone, and Randy Credico connection. Mueller has apparently been trying to discover if Corsi and Stone did have advanced knowledge of the DNC hack and were potentially involved in a conspiracy, while Credico was the man described as a communication middleman between Stone and Assange.
WikiLeaks addressed accusations about those individuals, as well, but we'll get to that in a moment.
You may recall that U.S. prosecutors screwed up by possibly unintentionally exposing Assange as a target of criminal charges. It was already clear at the time that this was not related to Mueller, since the U.S. Attorney's Office for the Eastern District of Virginia accepted "full responsibility for that mistake." In case that wasn't clear, however, Assange added that to the list: "It is false and defamatory to suggest that there is any evidence that the U.S. charges against Julian Assange relate to the Mueller investigation."
"It is false and defamatory to suggest that the U.S. government claims that Julian Assange or WikiLeaks directed, conspired, colluded or otherwise engaged in a crime, to obtain information from the Democratic National Committee or John Podesta [in fact, the government has made no such claim]."
Again, connected to the DNC hack, Assange denied having engaged in a crime and said that the government hasn't accused him or his organization of doing so. Assange said that WikiLeaks wasn't alone in publishing "allegedly hacked Democratic Party materials," naming other media outlets who participated in this: CNN, The New York Times, Politico, The Hill, The Intercept, and so on.
WikiLeaks and Assange also denied they "privately provided information about its then pending 2016 U.S. election-related publications to any outside party, including Nigel Farage, Roger Stone, Jerome Corsi, Donald Trump Jr., Michael Flynn, Michael Flynn Jr., Cambridge Analytica, or Rebekah Mercer [it is defamatory because it falsely imputes that Julian Assange acted without integrity in his role as the editor of WikiLeaks, associates with criminals, or has committed a crime]."
In other words, they claim they didn't privately disclose to any Trump campaign-connected individuals or data harvesters like Cambridge Analytica information about the DNC emails.
Assange denied communicating with Roger Stone prior to the election, except for one thing.
Assange claimed that it was defamatory to suggest he was in communication with Stone "during, or prior to, the U.S. 2016 presidential election." He added that "the only message sent from WikiLeaks was a demand that Mr. Stone cease falsely stating that he had 'communicated' with Julian Assange."
Put another way, they claim Stone lied when he said he communicated with Assange at all, let alone through a "backchannel." That "backchannel" has been speculated to be the aforementioned Randy Credico.
Assange said it is false to suggest "that there was a 'backchannel' between Julian Assange and Roger J. Stone during, or prior to, the U.S. 2016 presidential election."
Assange denied that the DNC email publication was designed to distract from the "grab them by the pussy" video.
This is another pretty straightforward one:
It is false and defamatory to suggest that WikiLeaks or Julian Assange timed the publication of its series on John Podesta to conceal the Access Hollywood "grab them by the pussy" video of Donald Trump [in fact, it is well documented that the video release was moved forward three days to be on the day of WikiLeaks' publication, see https://consortiumnews.com/2018/07/19/inside-wikileaks-working-with-the-publisher-that-changed-the-world/].
John Podesta, the chairman of Hillary Clinton's campaign, himself pointed out the timing of the WikiLeaks publication and the Access Hollywood tape release.
"On Oct. 7, the Access Hollywood tape comes out. One hour later, WikiLeaks starts dropping my emails," he said.
Assange denies ever meeting or communicating with Paul Manafort.
It's been a while since The Guardian published an explosive bombshell about Assange and Manafort meeting multiple times before the election, but the story has gone nowhere.
It was asserted without on-the-record sources that Manafort met with Assange inside the Ecuadorian embassy in London on a few occasions. The years were 2013, 2015, and the spring of 2016. The lattermost alleged meeting raised the most eyebrows since it was around the time Manafort became Donald Trump's campaign chairman and months before the DNC was hacked, allegedly by Russian military intelligence officers posing under the identity of Guccifer 2.0. Those internal emails were then infamously dumped on WikiLeaks.
The Guardian relied upon anonymous sources throughout, including one it described as "well-placed." Manafort, whose cooperation with Mueller has completely fallen apart, denied the story as "100 percent false." WikiLeaks also denied it, saying,  "WikiLeaks is willing to bet the Guardian a million dollars and its editor's head that Manafort never met Assange."
The Guardian responded the the uproar at the time by saying their story "relied on a number of sources."
"We put these allegations to both Paul Manafort and Julian Assange's representatives prior to publication. Neither responded to deny the visits taking place," a Guardian spokesperson told Law&Crime. "We have since updated the story to reflect their denials." Assange now says it is "false and defamatory to suggest that Julian Assange has ever met or communicated with Paul Manafort."
Law&Crime reached out to the Special Counsel's Office for comment, but it declined to do so.
[Image via Alex Wong/Getty Images]
Have a tip we should know? [email protected]