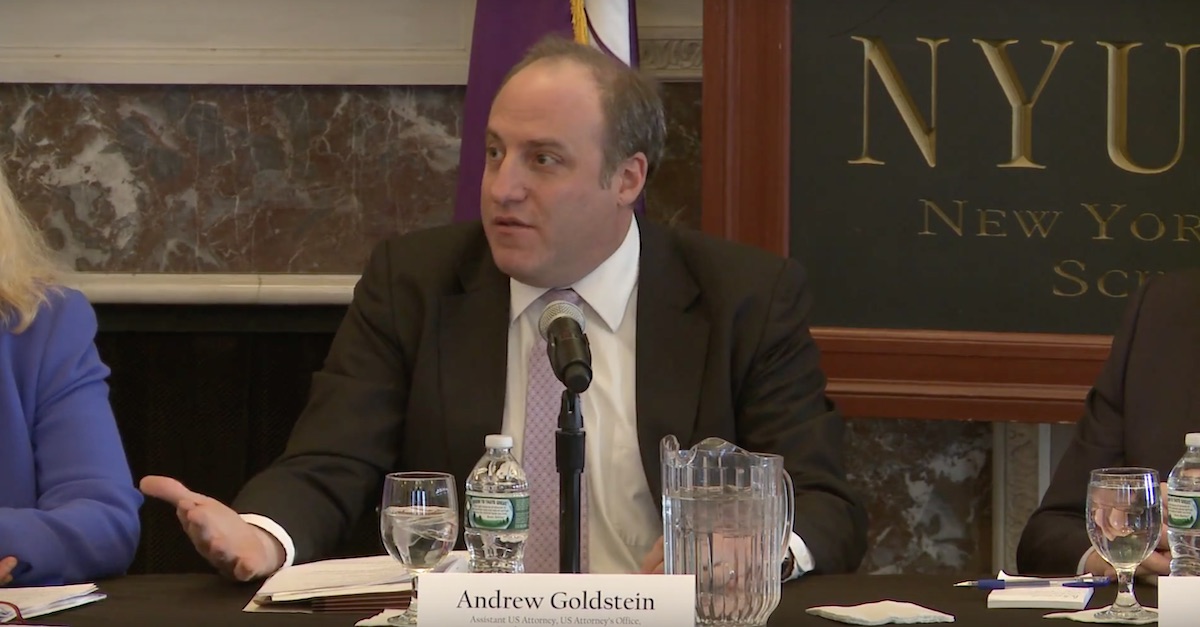 Special counsel Robert Mueller is the first name and the first face that comes to mind when the words "Russia investigation" are uttered, but the investigation would be impossible without his army of prosecutors and fact-finders. One of these prosecutors operating behind the scenes is receiving increasingly more attention due to his ubiquitous role in the questioning of President Donald Trump's advisers.
The New York Times put it simply: Andrew Goldstein has "conducted every major interview of the president's advisers" when it comes to Mueller's obstruction probe.
Goldstein made a name for himself working as a Assistant U.S. Attorney in the Southern District of New York (SDNY), an office that continues to grill Trump's ex-lawyer Michael Cohen about potentially illegal business practices at the Trump Organization. The SDNY, of course, prosecuted Cohen in part for campaign finance violations (hush payments) that he said Trump "directed."
While at SDNY, Goldstein was Preet Bharara's top public corruption prosecutor. Bharara was one of the "Obama-era" U.S. Attorneys Trump fired.
The Times reported Monday that Goldstein has questioned former White House counsel Don McGahn, the aforementioned Cohen, Steve Bannon and even questioned Roger Stone before a grand jury. Along the way, it seems he gained the respect of Trump's lawyers. John Dowd, who resigned from his post in March 2018, once argued that it was impossible for the president to obstruct justice and insisted on answering no questions in this area.
Dowd acknowledged that Goldstein "knew the facts like I knew the facts." Goldstein, a Barack Obama campaign donor who is the son of a Republican-appointed U.S. attorney, has been the one gathering facts about the circumstances of James Comey's firing from the FBI.
Some otherwise interesting nuggets in the Goldstein story were these three: His thoughts on investigating and prosecuting public corruption; his thoughts on why people lie; additional insight into how conscious Mueller is of appearances.
On prosecuting public corruption, per the Times:
"Investigating and prosecuting public corruption offenses can only go so far," Mr. Goldstein said in a rare speech around the time he joined the special counsel's team in 2017. "We can only police the outer bounds of misconduct: the really bad stuff, or at least the stuff that we can prove."
On why people lie:
"And why do people lie?" Mr. Goldstein said in a closing argument against Sheldon Silver, the former Democratic speaker of the New York State Assembly, who had covered up illegal payments from a friend seeking favors and was found guilty on all counts. "Why do people hide things? Why do people keep secrets? Because they have something to hide."
And finally, on Robert Mueller: Goldstein reportedly told a friend (identified in the story as Tim Lear) that Robert Mueller was not pleased about a certain photograph from months ago.
Remember this one of Mueller and Donald Trump Jr. at the airport? Mueller was reading the newspaper and Trump Jr. was on the phone.
Here's some more about that awkward moment:
Like Mr. Mueller, Mr. Goldstein wears starched white dress shirts to work and prizes secrecy. Mr. Goldstein told a friend, Tim Lear, that Mr. Mueller even complained to his prosecutors about being photographed near Donald Trump Jr. at an airport.
[Image via YouTube screengrab]
Have a tip we should know? [email protected]