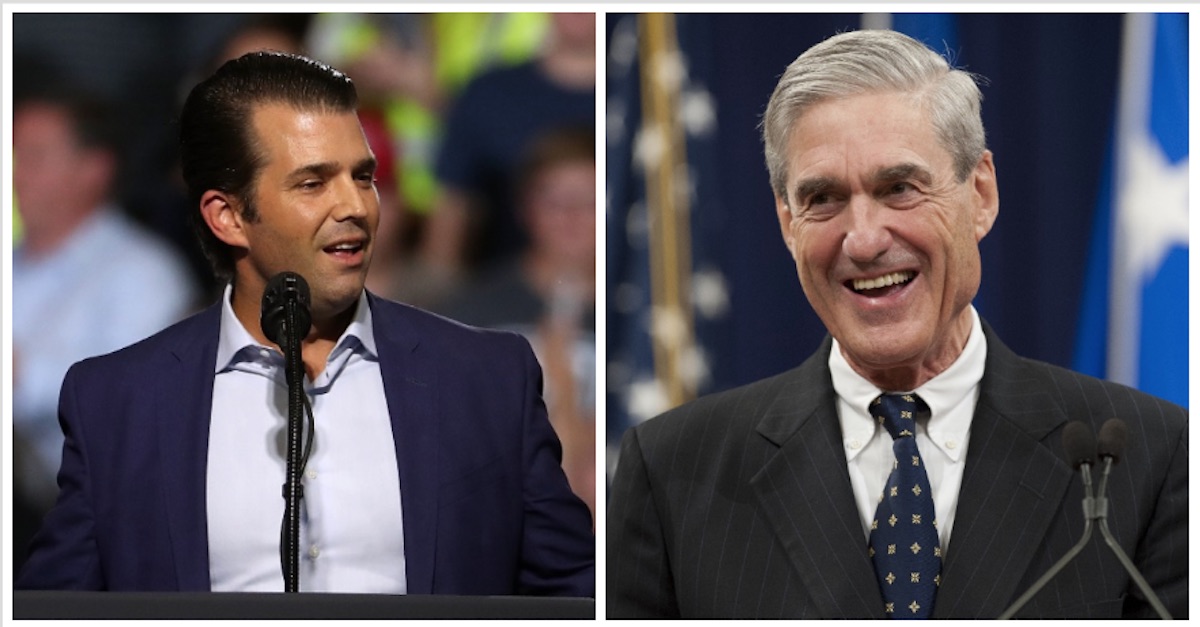 The Russia Investigation hasn't exactly been a laughing matter for many of President Donald Trump's associates, including his own son Donald Trump Jr. — until now.
Special counsel Robert Mueller and Donald Trump Jr. were spotted, Politico says, on Friday morning at "America's worst gate." That's gate 35X at Ronald Reagan Washington National Airport (DCA).
Mueller can be seen sitting down and reading the newspaper. It is perhaps the most predictable Mueller activity. If there were ever to be a Family Feud question, "What does Robert Mueller do with his life?" this would be an answer on the board.
What paper is he reading? Is he reading about himself? Quite possibly. Then you have Donald Trump Jr. on his cell and leaning up against a wall in the background. He is wearing a colorful polo, a cap and has a hand on his luggage.
Oh my. Mueller and Trump Jr. both waiting at 35X, which @playbookplus aptly describes as America's worst gate. pic.twitter.com/1vNUzgUl6z

— Josh Dorner (@JoshDorner) July 27, 2018
It's the best photo of 2018, probably. The memes and jokes were sure to follow.
— ᑕᕼᑌᑎK (@chunkled) July 27, 2018
This SS guy is like

Hurry the hell up Bob, I'm sick of smelling this asshole's Axe body spray™ pic.twitter.com/3sGn1ZRgCi

— Agenthades (@Agenthades1) July 27, 2018
Trump Jr. when he saw Mueller… pic.twitter.com/afBoRPWxjZ

— Elizabeth Byrd (@elizabeth_byrd) July 27, 2018
.@DonaldJTrumpJr , also known as #TraitorTot , when he arrived at the gate & saw Mueller…. pic.twitter.com/M19Un3cTg1

— lauren girard (@laureniscooking) July 27, 2018
Levity aside, this apparent chance encounter at the airport happens at a time when more questions are being asked about what Trump Jr. knew about a 2016 meeting he attended at Trump Tower. At that meeting, Trump Jr. met with Natalia Veselnitskaya, a Russian lawyer with ties to the Kremlin, for dirt on Hillary Clinton.
The meeting is in the news cycle again because former Trump lawyer Michael Cohen reportedly told CNN on Thursday night President Trump knew about the meeting before it happened. Though President Trump denied the Cohen claim on Twitter, it's worth mentioning Trump Jr.'s past testimony before the Senate Judiciary Committee indicated his father had no knowledge of the meeting beforehand.
[Images via Justin Sullivan/Getty Images, Saul Loeb/AFP/Getty Images]
Have a tip we should know? [email protected]