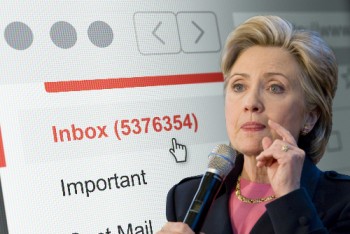 The State Department has now acknowledged that it withheld a key Benghazi e-mail in response to a Freedom of Information Act (FOIA) request filed in July 2014.  The State Department acknowledged finding the e-mail in 2014, but it was withheld in its entirety until last week.
This latest admission comes in a FOIA lawsuit filed by Judicial Watch, a conservative legal watchdog group, that seeks records related to the drafting and use of the Benghazi talking points.  According to Judicial Watch, it contradicts an earlier admission made by the State Department in the same lawsuit. In a letter dated April 18, 2016, the State Department writes:
Also, upon further review, the Department has determined that one document previously withheld in full in our letter dated November 12, 2014 may now be released in part.
The document in question is an e-mail from then Deputy Chief of Staff Jake Sullivan addressed to Hillary Clinton concerning Benghazi talking points to be used in discussions with Senators.  Although redacted almost in its entirety, the e-mail is important because it contains Clinton's private e-mail server address, [email protected].  Had the State Department disclosed the e-mail at the time of the 2014 FOIA request, it would have exposed Clinton's use of a private e-mail server to conduct official State Department business in the early fall of 2014.  The timing is significant because the disclosure would have occurred several months before the Clinton campaign says she deleted several thousand "personal" e-mails.
Judicial Watch President Tom Fitton on Tuesday released a statement accusing the State Department of intentionally withholding the e-mail.
Now we know the Obama administration consciously refused to give up key information about Hillary Clinton's email in 2014. It covered up this email both from the court and Judicial Watch. Judge Lamberth was right when he suggested that Obama's State Department acted in bad faith. This cover-up provided Hillary Clinton enough time to hide potentially thousands of government records. One aim of our court-order discovery will be to get to the bottom of this cover-up.
As LawNewz.com previously reported, U.S. District Court Judge Royce Lamberth was the second federal judge to grant discovery to Judicial Watch in a FOIA lawsuit.  In his order, Judge Lamberth found discovery was appropriate due to the "evidence of government wrong-doing and bad faith" on behalf of the State Department in the manner in which they responded to these FOIA requests.
6:40 p.m. UPDATE:
On Tuesday afternoon a State Department official issued the following statement:
The State Department generally does not comment on matters in litigation.  Here, however, there is confusion arising from an administrative error in recent correspondence in which the Department said that the document in question was withheld in November 2014.  That is incorrect.  The complete facts surrounding this document are set forth in a public court filing from July 2015.  As described in the attached filing, the Department received the document in June 2015 from members of former Secretary Clinton's senior staff, and did not withhold it until that time.  The Department regrets any confusion and will be sending corrected correspondence to Judicial Watch.‎
7:05 p.m. UPDATE: 
In a statement to LawNewz.com on Tuesday evening, Judicial Watch President Tom Fitton said, "The State Department can't keep track of its cover-ups."  Fitton added, " These changing stories are why two federal court judges granted us discovery."
[image via shutterstock]
Have a tip we should know? [email protected]