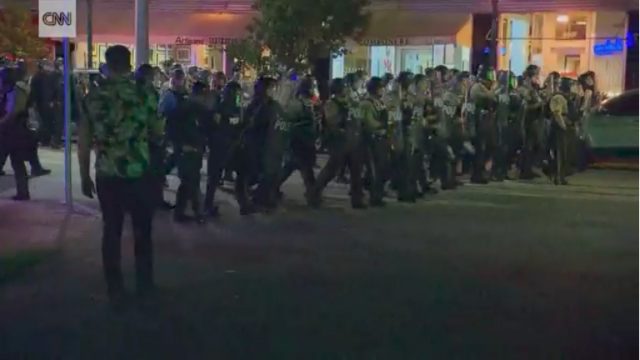 The St. Louis Metropolitan Police Department (SLMPD) is now under investigation for allegedly heavy-handed suppression tactics used to put down protests which erupted in the aftermath of the Jason Stockley verdict earlier this month.
Stockley, a former member of the SLMPD, was charged with first-degree murder over the 2011 death of Anthony Lamar Smith, a black man who Stockley shot and killed before allegedly planting a gun on Smith's body in what prosecutors argued was an attempt to cover up the cause of the killing. Dash cam footage caught Stockley proclaiming, "I'm going to kill that motherfucker," moments before he did so.
Stockley was acquitted by Judge Timothy J. Wilson on September 15. Almost immediately after news of the verdict spread, protesters filled the streets of Missouri's capital city, attempting to shut down St. Louis in a show of force and numbers opposed to police brutality and allegations of systemic racism.
The SLMPD's response was all but instantaneous as well–and controversial from the start.
Video showed riot cops trampling an elderly woman at one point during the protests–and blocking others from rendering aid. Another video showed riot cops mocking anti-racist protesters by appropriating the traditional protest chant, "Whose streets? Our streets!" Later, riot cops were accused of mounting a revenge campaign against a local business owner who complained about the police tear-gassing his customers. During the days-long commotion, a member of the SLMPD shared a racially bigoted meme critical of the Black Lives Matter movement on Facebook. Various other allegations of police brutality and impropriety were lodged against the SLMPD. And the American Civil Liberties Union (ACLU) quickly filed a lawsuit over those allegations.
In response to the negative press coverage and multiple legal challenges, St, Louis Mayor Lyda Krewson and St. Louis Police Chief Lawrence O'Toole announced, via a joint press release issued yesterday, an independent, "objective, thorough and fair investigation of all complaints and lawsuits stemming from the St. Louis City Police Department's response to the demonstrations and civil disobedience."
The press release notes that at least one dozen complaints have been filed over the SLMPD's tactics. It continues:
This effort will include Internal Affairs, the Civilian Oversight Board, and an independent third party investigation. It is important that the public have confidence in the results of this process, therefore Mayor Krewson and Chief O'Toole are calling on the U.S. Attorney for an independent third party investigation of the conduct, allegations and lawsuits.
The ACLU of Missouri's Tony Rothert greeted the news favorably, saying, in a statement, "Based on the evidence we've seen, we believe an outside investigation into police treatment of protesters and those engaged in civil disobedience following the Stockley verdict is a step in the right direction."
[image via screengrab]
Follow Colin Kalmbacher on Twitter: @colinkalmbacher
Have a tip we should know? [email protected]