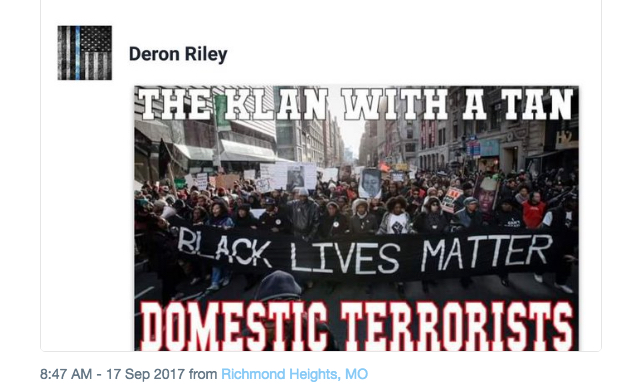 An officer with the St. Louis Metropolitan Police Department (SLMPD) is facing an internal investigation as members of the public are calling for him to be fired after he shared racially charged meme on Facebook.
Officer Deron Riley, a 16-year veteran of the SLMPD with an annual salary of nearly $60,000, posted an image of Black Lives Matter protesters with racially offensive captions as a comment on the Facebook status of St. Louis resident Lisa Clancy.
Clancy's status was a public post explaining why she participated in the protests over the acquittal of killer cop Jason Stockley, a white former police officer who was charged with murder and suspected of planting a gun on the man he killed.
Clancy's explanation reads, in part:
I want [my son] to live in a world where he doesn't fear those who are different than him (Darren Wilson and Jason Stockley certainly did, as does our current President and his comrades), where he doesn't have to fear for the safety and well being the black and brown people that he will come to love and care about, and where he sees and activates his own path to show up and make his voice heard when there is injustice.
Those hopes were apparently a bit too much for Officer Riley, who responded to her status–even though he apparently doesn't know Clancy–by posting a meme showing Black Lives Matter protesters marching down a street with a banner identifying their cause and the following two captions: "THE KLAN WITH A TAN," and "DOMESTIC TERRORISTS."
In an interview with Newsweek, Clancy said she was "frazzled and taken aback," by Officer Riley's post–especially because it appears he would have had to have searched for such statuses in order to comment on them since he's not her Facebook friend.
Two days after posting the offensive meme, Riley deleted his comment. But Clancy took screenshots, which were publicized on various social media. Clancy then complained to St. Louis Mayor Lyda Krewson and the SLMPD via Twitter and by making multiple phone calls to their offices, but says she never received a response.
As Officer Riley's racially-charged response picked up media attention, however, the SLMPD was faced with the optics of another apparently racist cop amongst their ranks and said it was opening an investigation into the matter.
Meanwhile, Mayor Krewson told the local CBS affiliate, "I've heard about that, but I have not personally seen that. If that is the case, first of all, I certainly disagree with that comment."
LawNewz reached out to the SLMPD for comment. They released the following statement: "The department has launched an internal investigation into the matter. The investigation is ongoing."
Clancy is now calling for Riley's dismissal. She said, "He needs to be let go, I think they need to send a strong message that this kind of behavior is unacceptable."
[image via screengrab/Lisa Clancy]
Follow Colin Kalmbacher on Twitter: @colinkalmbacher
Have a tip we should know? [email protected]