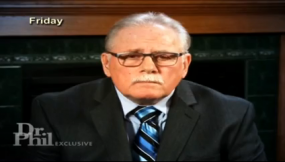 On Dr. Phil's jam-packed Monday show, former Sheriff Ken Petersen's admission that he did know about the 1995 phone call to the Manitowoc County Sheriff's Office stood out as the most significant detail revealed. This was the call that could have exonerated Avery.
The aptly titled episode, "New Details Revealed As The Sheriff Dept Speaks Out," followed several brief interviews as the television psychologist spoke with Petersen, Steven Avery's former attorney Dean Strang, current Manitowoc County Sheriff Robert Hermann, former local Wisconsin reporter Diana Alvear, and Avery's ex-fiance and girlfriend Sandra Greenman.
Ken Petersen
After Avery had been sitting in prison for 10 years, a call came into the Manitowoc County Sheriff's Department in 1995 which said someone being held in custody for an assault was not responsible for the crime. The call was received by Sgt. Andrew Colborn, a questionable character throughout the series, and was neither investigated nor reported until 2003 (when Avery was exonerated—how convenient!).  That's when Colborn wrote the report (eight years later!) and put it into a safe.
Dr. Phil pressed Sheriff Petersen and asked, "[S]o you knew the call came in in 1995?"
"Yes," Petersen said meekly.
See the exchange below.
After learning of the admission on-air, Dean Strang said:
"I'm hearing about this for the first time. It is upsetting. The segmentation of roles that you see in any criminal justice institution can lead to everybody saying not my problem… [This] illustrates yet another breakdown that can happen through a combination of institutional hubris, dislike or bias, suspicion, preformed conclusions about somebody and the sense that it's just not my problem. I wish this sort of thing didn't happen, but we know that it does." Strange added later, "I remain deeply concerned that it was not Steven Avery."
In September 2003, after 18 years in prison, Avery was exonerated of the rape claim by DNA evidence. His freedom, however, was ephemeral, as he was charged with the murder of 25-year old photographer Teresa Halbach just two years later. Mysteriously, Avery and his legal team were in the midst of a $36 Million lawsuit against Manitowoc County Sheriff's Department when the murder took place.
Sheriff Petersen is infamous in "Making a Murderer" for his inept response to claims that the Manitowoc County Police Department could have framed Avery: to which he replied, "it would have been a whole lot easier to kill him." Speaking with Dr. Phil, Petersen clarified, "It was a weak moment…It would be easier to eliminate him than to kill Teresa, why kill an innocent person?"
Diana Alvear
Another guest on the show was Diana Alvear, a former local Wisconsin reporter who comment about the bias of the documentary. "The truth is that you don't have the whole story," Alvear told Dr. Phil, "its been frustrating to watch." Reminding viewers to keep in mind the real victim of the story, Alvear said, "I want to urge you…bear in mind that you are seeing a one-sided bias perspective. I would really like to see something from the Halbach's perspective."
Robert Hermann
Current Manitowoc County Sheriff Robert Hermann, spoke to the criticism and harassment the County has received in light of the documentary. "It really shed a negative light on this area," he told Dr. Phil. Hermann also explained that the department has been the victim of harassment, both online via email and over voicemail. Whatever your thoughts may be on this case, many of the people do not have ties to the case and incessant calling can clog phone lines. That helps no one.
Steven Avery's New Legal Team: Kathleen Zellner
As the show closed out, Dr. Phil mentioned that Avery's new attorney, Kathleen Zellner, denied an invitation to appear on the show. However, Zellner did say that she has filed a motion to have Avery released on bond. It has not yet been ruled on.
[Screengrab via TVEyes]
Have a tip we should know? [email protected]