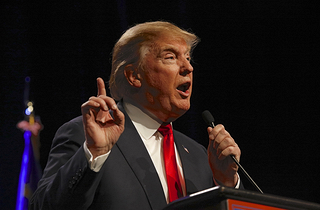 A couple different election stories intersected on Tuesday when VICE News reporter Jason Leopold and MIT/Harvard transparency researcher Ryan Shapiro added the Secret Service to a lawsuit they had already filed against the IRS and FBI for records relating to Donald Trump. VICE has already sued the IRS for Donald Trump's tax records and the FBI for records of any investigation into his comments that were perceived as threats agains Hillary Clinton. Now, the news outlet is going after the Secret Service for the same things they want from the FBI.
This all comes after VICE attempted to file Freedom of Information Act (FOIA) requests for the information. While the IRS and FBI denied them, the Secret Service made the interesting choice of not responding at all. In the amended complaint, they cite Trump's August 9th comments that "If [Clinton] gets to pick her judges, nothing you can do, folks […] Although the Second Amendment people — maybe there is, I don't know," as well as this tweet indicating that the Secret Service was looking into it:
VICE filed their FOIA request on August 18th and the statutory 20 business days have passed without acknowledgement, so they have no choice but to sue the Secret Service.
Have a tip we should know? [email protected]