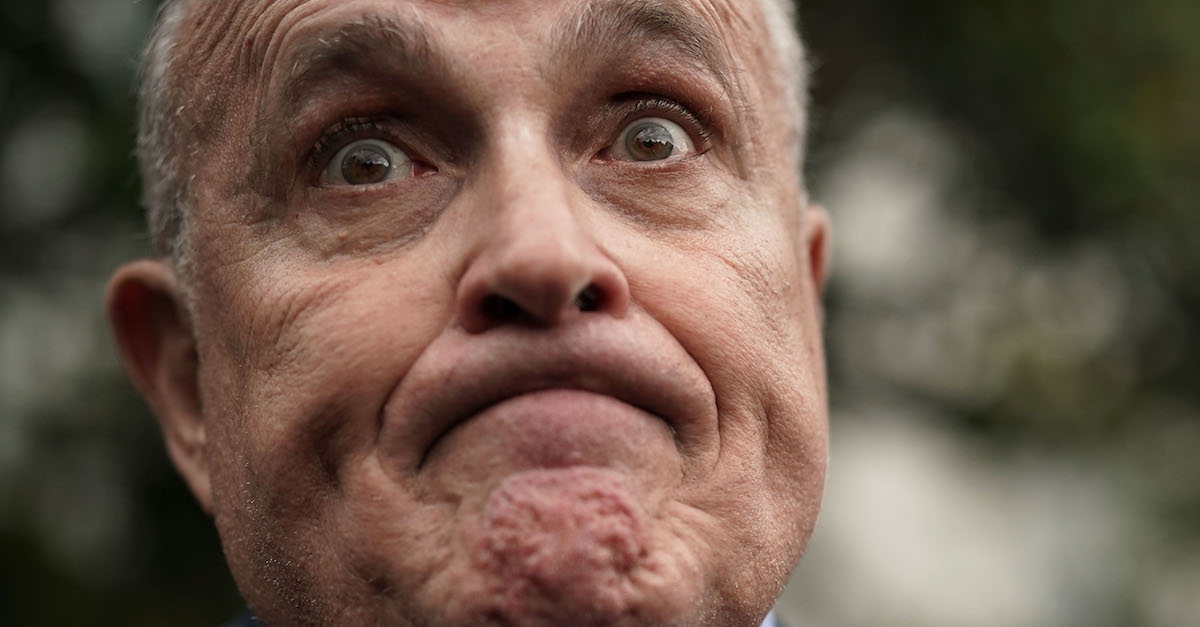 If you believe that Rudy Giuliani has been flying by the seat of his pants in his defense of President Donald Trump, Giuliani's latest tweet certainly provides even more fodder.
Giuliani offered three reasons in one tweet on Monday morning as his latest arguments for why special counsel Robert Mueller's Russia investigation must end now.
What these arguments were: 1) Former Trump campaign advisor George Papadopoulos, who was sentenced Friday to 14 days in jail, "testified no knowledge of collusion"; 2) Bob Woodward's new book, Fear: Trump in the White House, found "no evidence" of collusion; 3) The writer of the infamous anonymous op-ed in the New York Times made no mention of collusion.
What his takeaway from all of this was: It's time to end the Mueller probe.
All developments point to no collusion. Papadopoulos testified no knowledge of collusion. Woodward,after exhaustive research, found no evidence. And "anonymous author" makes no such allegation. Why? Because the President did nothing wrong. Time to end it.

— Rudy Giuliani (@RudyGiuliani) September 10, 2018
The mental gymnastics being performed here are Olympian in nature.
Papadopoulos pleaded guilty to lying to the FBI and said he did so to protect Trump.
"I understood that there was an incipient investigation into Russian interference in the 2016 election, and I found myself as somebody who worked incredibly hard over the past year in the campaign to actually have candidate Trump be elected," he said. "And I found myself pinned between the Department of Justice and the sitting president, and having probing questions that I thought might incriminate the sitting president."
Collusion is still a separate question from what Papadopoulos has said and done. Either way, Papadopoulos is hardly innocent. That's what a guilty plea means.
The Woodward book, meanwhile, has been branded a "fiction" and a "scam" by Giuliani's client.
The Woodward book is a scam. I don't talk the way I am quoted. If I did I would not have been elected President. These quotes were made up. The author uses every trick in the book to demean and belittle. I wish the people could see the real facts – and our country is doing GREAT!

— Donald J. Trump (@realDonaldTrump) September 7, 2018
Amusingly, Giuliani now cites the book authoritatively to help make the case that the Mueller investigation should be stopped.
Then, not connected to any of this, is the Times op-ed. The writer, who remains anonymous and a target of Trump's Twitter wrath, is suddenly an authority by omission. That is, they didn't accuse Trump of collusion in the piece, therefore the Mueller probe must end.
If you've had trouble making any sense of this whatsoever, join the club.
[Image via Alex Wong/Getty Images]
Have a tip we should know? [email protected]