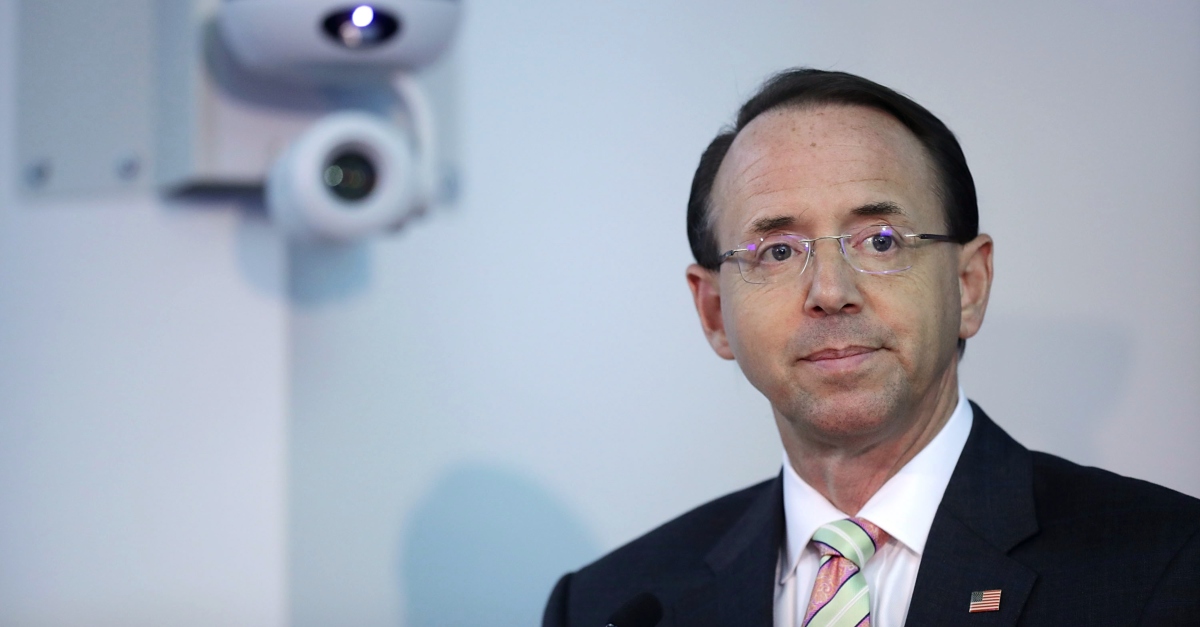 After watching his boss Jeff Sessions hand in his resignation at the request of President Donald Trump, Deputy Attorney General Rod Rosenstein has issued a pretty clear endorsement of acting Attorney General Matthew Whitaker.
Rosenstein, who appointed Robert Mueller as special counsel, has called Whitaker a "superb choice" to fill in as attorney general. Formerly, Whitaker was Sessions' chief of staff. Even further back, Whitaker was a U.S. Attorney for the Southern District of Iowa.
"I think he's a superb choice for attorney general. He certainly understands the work, understands the priorities of the department. I think he's going to do a superb job as attorney general," per CNN correspondent Laura Jarrett.
The comments were made outside of an investiture ceremony for U.S. Attorney Zachary Terwilliger. Terwilliger was sworn in as U.S. Attorney for the Eastern District of Virginia on Friday in Alexandria, Virginia.
The remarks were described as "a clear attempt at displaying department solidarity."
Rosenstein had been heading the Russia Probe ever since Sessions recused himself from the investigation. Although Rosenstein is expected to "continue to handle the day-to-day management of the probe, as he would for any other significant criminal investigation," the final say now falls to Whitaker as acting AG.
[Image via Chip Somodevilla and Getty Images]
Have a tip we should know? [email protected]