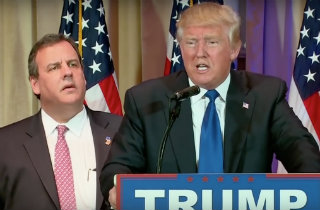 Remember Bridgegate?
That was the scandal where, after Fort Lee, New Jersey Mayor Mark Sokolich refused to endorse Governor Chris Christie for reelection, his staff wanted to get revenge. So Bridget Anne Kelly, then a deputy chief of staff for Christie, allegedly decided that the best way to get said revenge  would be to disrupt traffic flow into Fort Lee by closing the most relevant New Jersey-bound lanes on the George Washington Bridge. Christie aide Bill Stepien, who had just ended a romantic relationship with Kelly, was revealed to have allegedly been aware of the plot. Chris Christie later cut ties with Stepian because he said he lost faith in him.  Now, according to the New York Times, Donald Trump's presidential campaign has hired Stepien.
Citing five difference anonymous sources (two close to Stepien, three close to the Trump campaign), the Times reports that Stepien was hired on Thursday to be the Trump campaign's "national field director," a role where he will "help guide the campaign's political operations." Trump's son-in-law, Jared Kushner, apparently pushed for the hire, not consulting Christie, who is the chief of the candidate's transition committee and no longer in touch with Stepien. When Corey Lewandowski was running the campaign, he was against hiring Stepien after the idea was brought up.
Roger Stone, who serves as an "informal adviser" to the Trump campaign, told the Times that  "[Stepien]'s a real professional and has the kind of contacts and experience the campaign could really use." The former Christie aide was not among those charged in conjunction with the "Bridgegate" scandal, but it did slow down his career. Stepien has denied all involvement in the scandal.
[Photo: CNN's YouTube Channel]
Have a tip we should know? [email protected]