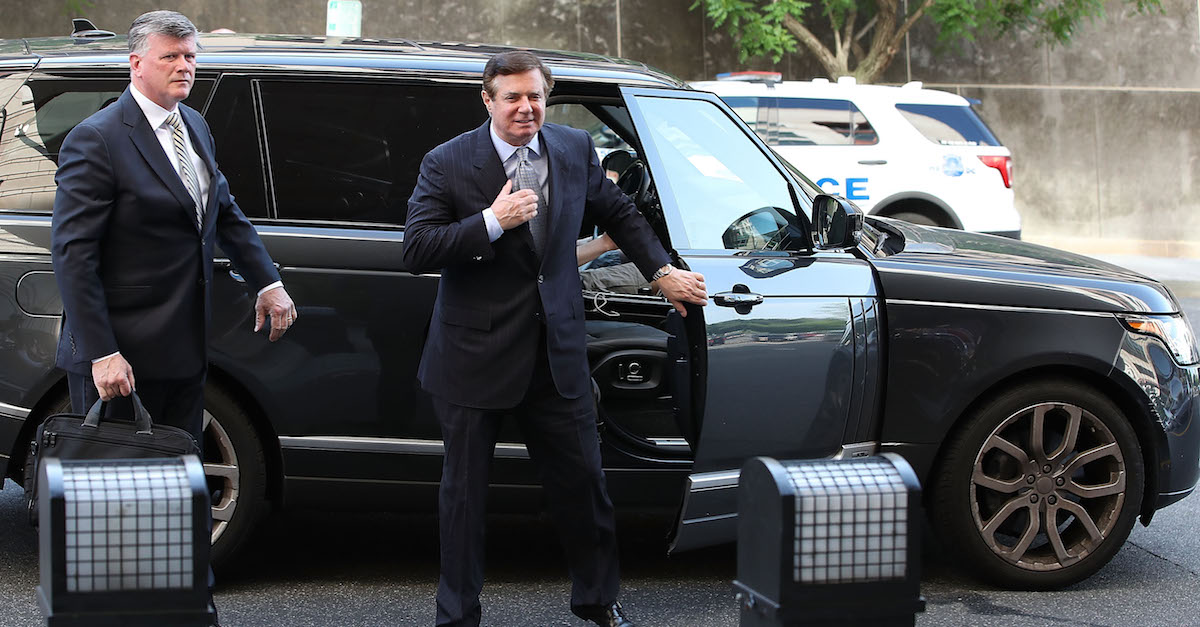 Paul Manafort would like to be able to dress up for all of his forthcoming court dates. In fact, the convicted felon and former Trump 2016 campaign chair is so adamantly dead-set about keeping his appearance flossy that he's filed a motion with the Eastern District of Virginia asking for exactly that.
In a three-page court filing submitted Tuesday morning, Manafort attorney Kevin Downing submitted the following request:
Paul J. Manafort, Jr., through counsel, hereby moves the Court for an order that he be dressed in a suit for the hearing on October 19, 2018, and all subsequent court appearances.
How is such a request submitted to a court of law? Well, in this particular case, Manafort's legal team didn't rely on a typical motion but rather fashioned one with the novel and self-evident title of:
Paul J. Manafort Jr.'s Motion For Order That He Be Dressed In A Suit For The Hearing On October 19, 2018 And All Subsequent Court Appearances.
Similar requests are actually somewhat common in the U.S. legal system–aside from the highly case-specific title of the Manafort motion, of course. Typically, however, motions regarding a defendant's dress are not so specific that they single out the exact form of attire requested.
In fact, the U.S. Supreme Court has even ruled on this issue. In the 1976 case of Estelle v. Williams a Texas man, Williams, was convicted of assaulting his former landlord. Williams couldn't afford to post bail while awaiting trial and was subsequently tried in his prison uniform. A jury later found him guilty of the charge.
Williams appealed, seeking a writ of habeas corpus and asserted that being tried in a prison uniform violated his constitutional rights under the 14th Amendment. The Court of Appeals reversed his conviction, finding that an accused person has the right to be dressed in something other than identifiable prison clothes and therefore Williams' due process rights were violated. The Supreme Court reinstated the conviction but upheld the lower court's finding about prison clothes during a trial. The high court noted:
[A]lthough the State cannot, consistently with the Fourteenth Amendment, compel an accused to stand trial before a jury while dressed in identifiable prison clothes, the failure to make an objection to the court as to being tried in such clothes, for whatever reason, is sufficient to negate the presence of compulsion necessary to establish a constitutional violation.
In other words, Williams simply didn't complain about having to wear prison clothes in time to avail himself of his constitutional rights. In Manafort's case, the request appears to be timely–but that's not quite the whole story.
Law&Crime reached out to criminal defense attorney Stephen Le Brocq, who is familiar with defendant dress code requests. Le Brocq made a point to clarify that Manafort's request here doesn't actually fit so neatly into the Supreme Court's precedent above.
"The law is well-established that a court cannot force an accused to be tried in identifiable prison clothing. This makes sense as it is unduly prejudicial for their case. However, I know of no case that stands for same in regards to hearings as hearings are less formal than trials and there are no juries," Le Brocq said. He continued:
In this case, given the national attention, it appears that the defendant and his attorney want to avoid any negative impact that could result from Mr. Manafort's presence wearing identifiable prison clothing. It paints a highly negative picture in the minds of people, so it makes sense why they are asking the court to allow him to wear a suit, even when the hearings are not before juries.
This isn't the first time Manafort's clothes have been the focal point of attention on his case, as his expensive tastes were discussed in detail during his trial. If his request is granted, who knows what he'll end up wearing.
Follow Colin Kalmbacher on Twitter: @colinkalmbacher
Have a tip we should know? [email protected]