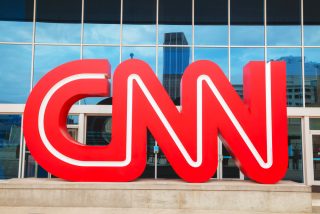 A new court filing alleges that Turner employees faced racial discrimination that held them back in their careers and led to at least one former assistant being fired.  Roughly two dozen current and former employees of CNN and TBS (both owned by Turner) claim that there is a systematic problem with "discriminatory practices being implemented throughout all of Turner's Networks [sic]," according to a complaint filed Tuesday evening.
The complaint cites statistics showing that black employees at Turner are promoted at a much lower rate than whites. The lawsuit alleges that this "can only be attributed to the fact that Turner, specifically CNN has implemented formal [emphasis in original] written and unwritten policies and practices regarding promotions[.]" The attorney who filed the complaint, Daniel Meachum, told LawNewz.com that the statistics were gathered by Turner themselves as part of an internal study.
Black employees also historically received lower scores on their evaluations, according to the complaint. "There is no objective factor other than race that can explain this disparity, since performance is not linked to job title or education," it alleges.
One of the named plaintiffs, Ernie Colbert Jr., claims that in 19 years of working at TBS, he has only been promoted twice, and was paid less than his white coworkers. The other named plaintiff,  Celeslie Henley, alleges that she suffered discrimination, and then lost her job after she complained. Henley claims that after she received discriminatory treatment from white managers, she complained to human resources, and was promptly terminated five days later.
Meachum is also representing DeWayne Walker, a CNN producer who is also currently suing the network for race discrimination in a separate action. Walker first filed his $50 million lawsuit in December 2015, claiming that he has been passed over for promotion throughout his career at CNN because of his race. He also alleges that the company retaliated against him after he brought a complaint with the Equal Employment Opportunity Commission.
Meachum said in a statement obtained by LawNewz.com that during the course of investigating Walker's case, "we have uncovered stories involving abuse of power, nepotism, revenge, retaliation and discrimination." Meachum says that CNN, Turner Broadcasting, and parent company Time Warner have practices and policies that impact black employees in particular, keeping them from being promoted and preventing them from taking action. He told LawNewz in a phone conversation that the allegations stemmed from statistics provided by Turner that showed a disparity in treatment of black employees, which led to the new lawsuit.
Since the lawsuit was publicly announced Wednesday morning, Meachum said he has received "20 or 30 calls from people asking to part of the class." This is in addition to between 25 and 30 people already attached to the case.
LawNewz.com reached out to Turner. They did not have any comment on the case.
Henley and Colbert v Turner by LawNewz on Scribd
[Image of CNN via Shutterstock, image of DeWayne Walker via Daniel Meachum]
Have a tip we should know? [email protected]