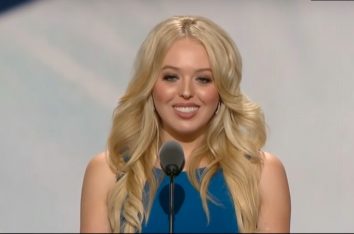 Tiffany Trump, the President-elect's daughter who seems to keep a lower profile compared to her older half sister Ivanka, does not seem to be in any hurry to jump right into the family real-estate business.  However, that does not mean she is looking to be a slacker or to take time off to backpack around the world on her father's dime.  Instead, it appears that Tiffany is possibly preparing to attend one of the nation's most prestigious law schools in the near future. Or at least she wants to.
Tiffany has made no secret of her desire to study the law.  An article published earlier this year in Teen Vogue magazine made it clear that the youngest Trump daughter was considering a career in law.   In the article, her studying for the LSAT (the admission tests for attending accredited law school) was cited as a primary reason for her absence from the campaign trial (compared to her older siblings).
Tiffany herself even published an Instagram photo of her LSAT study materials with the tag, "I got this."
According to the legal blog Above the Law, Tiffany finally took the LSAT last Saturday and it seems she may be pretty confident with her results.  The legal blog also received a tip complete with cellphone pic that appears to show Tiffany touring Harvard Law School this week.
Some might think Tiffany is simply getting favors from her famous soon-to-be-President father.  However, it is doubtful Donald Trump has much support around that Ivy League institution.  Maybe she won't need the help? Tiffany did attend the University of Pennsylvania, another Ivy League institution, for undergrad and majored in sociology and urban studies.
[image via screengrab]
Have a tip we should know? [email protected]