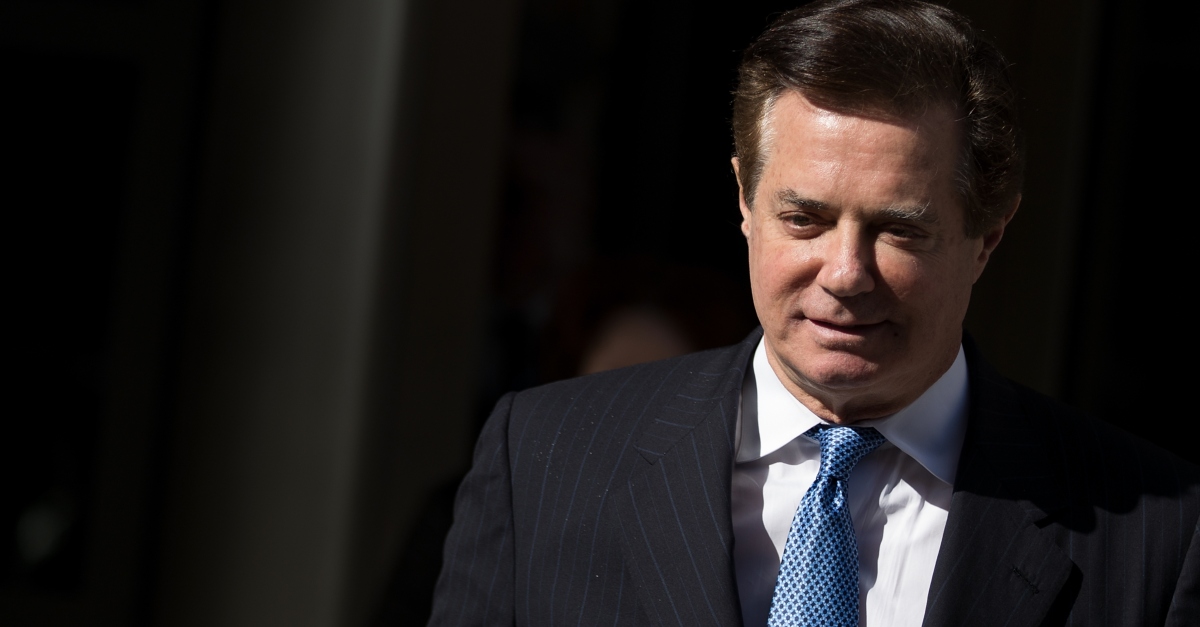 President Donald Trump's former campaign chair Paul Manafort allegedly received $125,000 from a pro-Trump Super PAC and then subsequently lied about that payment to special counsel Robert Mueller. Aside from consequences for his alleged lie, this payment may lead to a new slate of charges against Manafort for campaign finance violations.
According to the special counsel's office, Manafort lied about [the] $125,000 payment" and "made several inconsistent statements to the government about the payment." Variously, Manafort claimed the $125,000 "was a repayment of a debt" from the head of an unnamed entity, "that it was income to Manafort for work performed" for another firm and finally "that it was a loan from" the second unnamed firm.
Apparently none of those answers were actually true.
According to the New York Times:
Associates of Mr. Manafort's said the money was funneled through a political action committee called Rebuilding America Now, set up in the summer of 2016 to help Mr. Trump's then-cash-starved campaign. Spending $23 million, it was one of the biggest sources of funds for polls and advertisements on Mr. Trump's behalf.
Brendan Fischer is the federal reform program director with the non-partisan public interest watchdog Campaign Legal Center (CLC). In response to the Times' reporting on Mueller's Friday filing, Fischer offered some key backstory on this third-party campaign financing arrangement.
"In 2016, Manafort, as Trump campaign chair, hired two associates, and then dispatched them to form a Trump super PAC: Rebuilding America Now," Fischer noted on Twitter. "This violated FEC rules requiring a cooling-off period."
According to Federal Election Commission rules governing Super PACs, former campaign staffers are supposed to refrain from coordinating with Super PACs for 120 days after they exit a political campaign. This rule, according to OpenSecrets, is "intended to keep former staffers from carrying their knowledge elsewhere."
CLC filed a complaint at the time and the Super PAC responded that everything was aboveboard because the people involved in creating the third-party expenditure organization were simply Trump 2016 campaign "volunteers," according to NBC News. Nothing much came of the complaint because FEC rules are seldom enforced.
Fischer offered some additional details about Rebuilding America Now.
"[Vice President Mike] Pence appeared in fundraising materials for Rebuilding America Now. Newly-elected Senator Rick Scott was the super PAC's chair," he tweeted. "It was one of the top-spending outside groups backing Trump in 2016."
How was this pro-Trump effort funded?
In part by a subsidiary of private prison company GEO Group–allegedly in violation of the law against federal contractors donating to campaigns–as part of an alleged influence peddling operation, according to a complaint filed by Campaign Legal Center with the Federal Election. That subsidiary is GEO Corrections Holdings, Inc. The subsidiary's parent company, The GEO Group, did not make any such contributions.
As Law&Crime reported, "During the 2016 general election, GEO Group's subsidiary contributed $225,000 to the pro-Trump Super PAC, Rebuilding America Now. In the aftermath of Trump's election, the president rescinded the Obama-era rule that would have slowly phased out federal private prison contracts. The administration later awarded GEO Group some $110 million as part of a new federal contract."
GEO Group, for their part, denies these contributions were in violation of the law. In an email to Law&Crime, GEO Group representative Pable Paez noted that prior FEC decision held that "non-contracting, subsidiary entities like GEO Corrections Holdings Inc. may lawfully make federal contributions," and are thus not constrained by the contractor prohibition. Paez also rubbished CLC's complaint.
"We are confident the FEC will dismiss the Campaign Legal Center's complaint," he wrote.
Fischer later detailed the Super PAC's behavior after the successful 2016 campaign
"After the election, Manafort was under scrutiny as the Russia probe heated up, he wrote. "The two Manafort associates running the PAC could no longer claim any connection to Trumpworld. So Rebuilding America Now went quiet. With no connection to Trump, donors had no reason to fund the PAC."
But the Super PAC still had plenty of cash.
"The Manafort associates running Rebuilding America Now just burned through the remaining cash," Fischer noted. "Of the $1.05M the PAC spent in the year after the election, $917K went to consulting fees, travel, or meals for Manafort's guys."
The upshot here is that Mueller may have campaign finance charges waiting in the wings.
Again, Fischer:
Does Mueller have info about Manafort's relationship with [Rebuilding America Now] during his time as Trump campaign chair? If so, we could see campaign finance charges. There is already evidence that the super PAC's spending met the legal definition of "coordination." Emails could seal the deal.
[image via Drew Angerer/Getty Images]
Follow Colin Kalmbacher on Twitter: @colinkalmbacher
Editor's note: this article has been amended post-publication for clarity and accuracy and to include a response from GEO Group.
Have a tip we should know? [email protected]