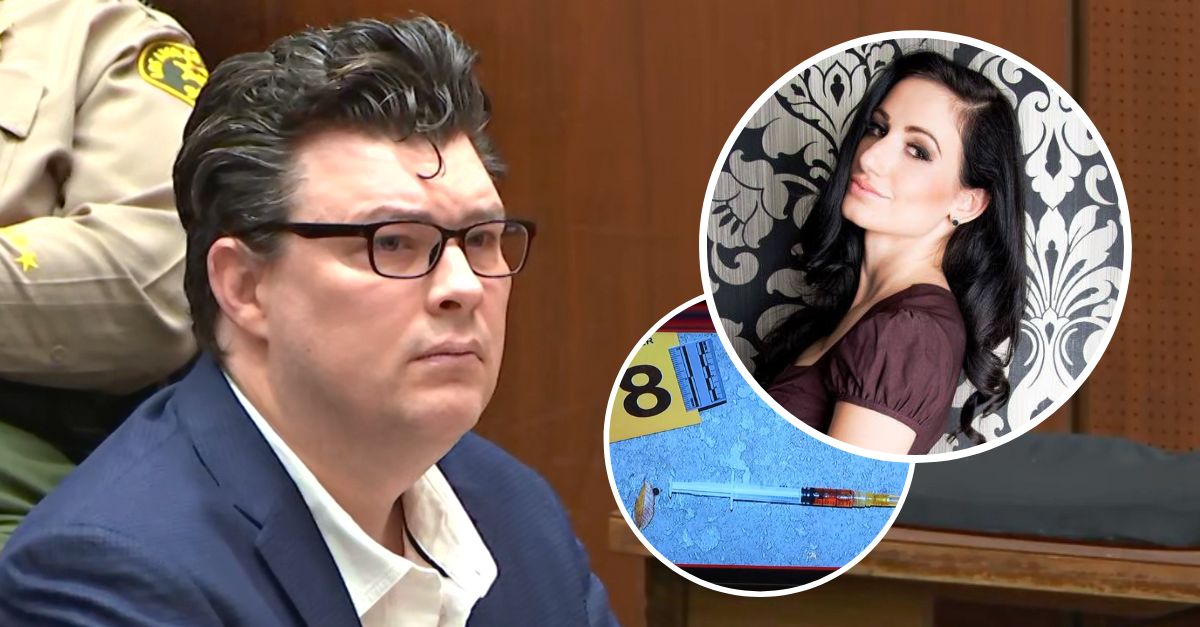 Opening statements in the murder trial against Gareth Pursehouse for the slaying of his ex-girlfriend, Hollywood sex therapist Dr. Amie Harwick, started Tuesday.
Pursehouse is facing murder and burglary charges for Harwick's death — investigators believe he stalked Harwick after a chance reunion allegedly sparked an obsessive rage within him, which spiraled into a violent and deadly attack.
The two started dating in 2011, prosecutors explained in their opening statements. In 2012, Harwick ended the relationship and filed a protective order against Pursehouse, claiming he physically and emotionally abused her.
Nearly eight years later, after all communication was cut off, the two saw each other at a Hollywood event in mid-January 2020. Harwick was on the red carpet and Pursehouse had been hired as a photographer.
"She rejected his advances, she cut off all communication with him, so he punished her, broke into her house, and killed her," Deputy District Attorney Victor Avila explained.
According to Avila, after their encounter at the event, Pursehouse found Harwick's phone number and texted her. After a brief conversation in which Pursehouse asked to speak with Harwick further, she declined, setting a boundary that their conversation at the event was all that was needed and to terminate any further interactions.
Pursehouse insisted on seeing and talking to her, the state said, detailing numerous texts, phone calls, and a crying voicemail from Pursehouse after his initial message.
Fearing for her safety, Harwick blocked Pursehouse's number, got new locks on her windows, and had a handyman install security cameras at her home, the prosecutor explained. After the encounter, Harwick emailed herself what appeared to be a journal entry detailing how scared she was after seeing Pursehouse. She called Pursehouse "obsessive and scary," the email stated.
In Avila's opening statement, he also detailed the timeline of the crime.
February 14, 2020
7 p.m. – Harwick left her home to head downtown to meet up with friends.
7:10 p.m. – Pursehouse left his home, traveling 51 miles from Playa Del Ray to Hollywood Hills.
8:52 p.m. – Ring camera footage from Harwick's neighbor showed Pursehouse on the neighbor's property moving toward Harwick's home.
9 p.m. – Harwick's roommate, asleep on the first floor of the home, heard what he believed was a dish breaking. Assuming it was Harwick, he went back to sleep.
February 15, 2020
1:02 a.m. – Harwick sends her last text.
1:10 a.m. – Harwick's roommate hears a thud and wakes up. He realizes Harwick is getting attacked and screams for the suspect to stop.
1:11 a.m. – Ring camera footage shows Harwick's roommate running to a neighbor's house looking for help.
1:14 a.m. – Harwick's roommate calls 911.
When first responders arrived on the scene, crime scene detectives found the French doors leading into Harwick's home had been shattered. According to the prosecution, DNA collected from a smear of blood on the doors and on a bloodstain on the floor matched Pursehouse's DNA.
DNA collected from under Harwick's fingernails also matched Pursehouse's DNA.
Detectives found a syringe at the crime scene they originally assumed was filled with heroin. Chemists at the FBI tested the syringe and confirmed it actually was a lethal dose of nicotine.
"It was poison," attorney Avila said.
Detectives believe when Pursehouse grabbed Harwick inside her home, he strangled her — then, startled by her roommate's scream, he dragged her to the third-floor balcony and threw her over the ledge.
Dr. Harwick's pelvis was shattered and she sustained brain and liver damage, the prosecution said. She died at the hospital just after 3 a.m.
The defense fired back in its opening statements, claiming Pursehouse was heartbroken and depressed.
Defense attorney Evan Franzel started by listing the messages Pursehouse sent to Harwick.
"I have a lot to say, please give me a chance to say it. Can we meet again? I wish is could do something more. Please, please," the attorney said.
According to the defense, seeing Harwick at the event "sent him into a deep, debilitating depression he was not able to overcome."
"The evidence will show that running into her at that event sent him into a thick fog of depression and made him feel that the only way he could get relief from that pain was to go and talk to her," Franzel explained. "The evidence will show he never intended on killing her"
Franzel brought up the syringe found at the crime scene during his opening statement — claiming a "responsible inference" was that Pursehouse broke into Harwick's house to talk to her and he planned on killing himself, not Harwick, with the lethal nicotine dose.
The defense also claimed another "responsible inference" was that Pursehouse did not throw Harwick over the balcony ledge, rather she ran to the railing, attempted to climb over it to get away from her ex-boyfriend, was unsuccessful, and fell.
"He set a chain of motions into actions that led to her death," attorney Franzel admitted.
The state called its first witnesses Tuesday afternoon. Jurors will hear more testimony on Wednesday morning.
Have a tip we should know? [email protected]