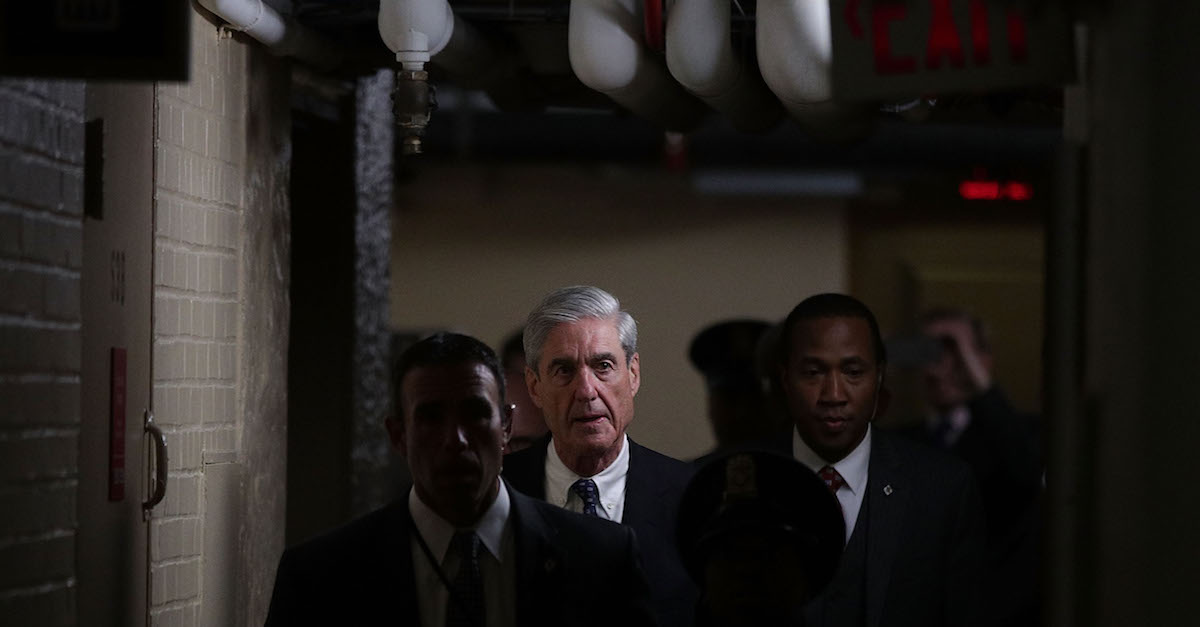 An unknown person or organization appears to be planning a series of false sexual misconduct allegations in an effort to smear Special Counsel Robert Mueller. Independent investigative journalist Scott Stedman whose writing has appeared in The Guardian, first alerted the world to the work being done in a series of tweets during the early morning hours on Tuesday. At 1:05 a.m. he wrote:
I wasn't going to report on this, but I think my fears are coming true. Based on information that I am privy to, I believe false accusations will be spread about Mueller in order to discredit him and possibly the journalists who are preparing this story.
At least two mainstream journalists appear to have confirmed some aspects of the above story.
The Atlantic's Natasha Bertrand has authored several expansive pieces on various aspects of the Mueller probe over the course of the special counsel's wide-ranging investigation. In a Tuesday morning tweet, Bertrand offered a terse confirmation of Stedman's claims:
Can confirm https://t.co/YwyDDtEt2h

— Natasha Bertrand (@NatashaBertrand) October 30, 2018
The New Yorker's Jane Mayer is another journalist who has spent the recent past devoted to an ongoing story that's captured many of this year's headlines: sexual assault allegations against powerful men. Minutes after Bertrand confirmed Stedman's story, Mayer offered her own take–and apparent awareness–of the earlier claims. Mayer noted:
It's just a stupid hoax.

— Jane Mayer (@JaneMayerNYer) October 30, 2018
Stedman elaborated on his claims, writing:
Two weeks ago, I was contacted by a woman who claimed to be a former associate of Mueller who said that she got a phone call from a man working on behalf of a GOP operative who was paying women to come forward to make up sexual assault allegations.
Additional tweets pieced the story together further. Stedman said he "chased down leads" but did not find the woman to be reliable. He did say he got in touch with the person who was allegedly offering money to accusers.
"He was extremely willing to confirm that he was indeed paying women to tell stories about Mueller," Stedman wrote. "I concluded that this was an effort to discredit journalists working on the Trump-Russia story by planting a false story and see who would print it."
"I worked on this story and chased down leads, but found the woman to be very unreliable, Stedman wrote. "She wouldn't get on the phone, she lied about journalists she was working with, etc. Furthermore, I got in contact with the man who allegedly was offering the money."
At the time of this publication, no accusations against Mueller have been made.
After this story was published, however, Mueller's office confirmed the nature of the false allegation story and said that the matter had been referred to the FBI. In a statement, special counsel spokesperson Peter Carr said:
When we learned last week of allegations that women were offered money to make false claims about the Special Counsel, we immediately referred the matter to the FBI for investigation.
[image via Alex Wong/Getty Images]
Follow Colin Kalmbacher on Twitter: @colinkalmbacher
Editor's note: this story has been amended post-publication to include a response from the special counsel's office.
Have a tip we should know? [email protected]