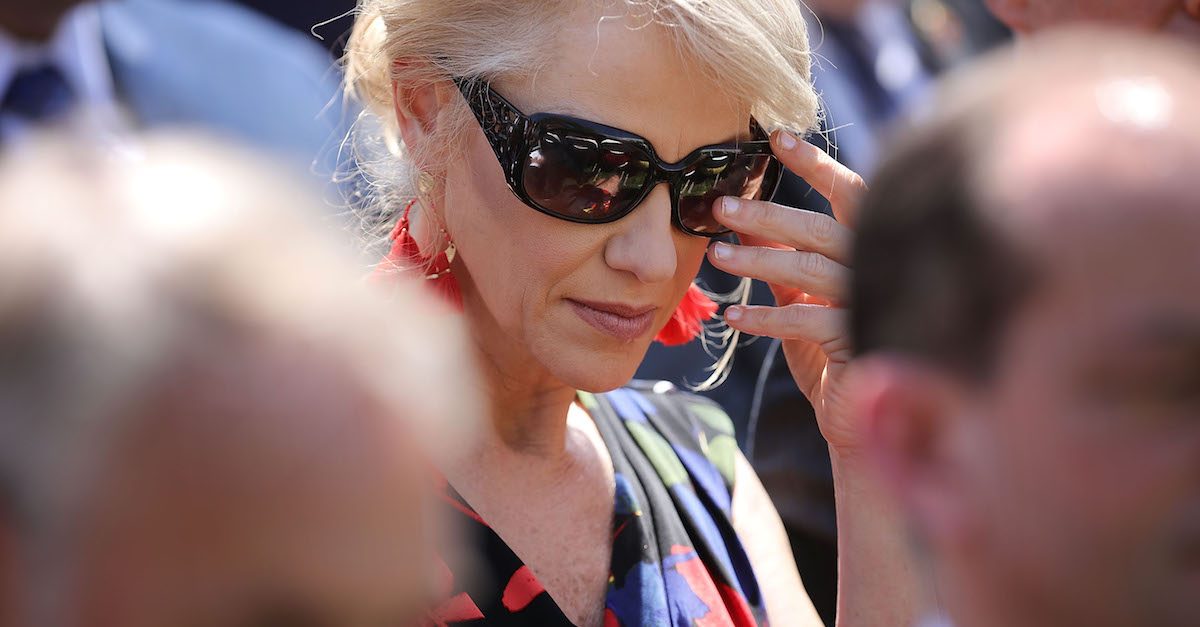 Reaction to President Donald Trump's meeting with Russian President Vladimir Putin in Helsinki on Monday continues, and Kellyanne Conway's husband George has joined in on the furious response. President Trump has been roundly criticized for declining to directly condemn Putin for Russian interference in the 2016 election.
Let's see how George Conway is holding up. Below is a series of tweets Conway has retweeted without comment on his account thus far today:
This is daughter of Trump's ambassador to Russia. She's also @fox reporter. https://t.co/ZOso9v8Wzp

— Alison Frankel (@AlisonFrankel) July 16, 2018
Ryan: "There is no question that Russia interfered in our election and continues attempts to undermine democracy here and around the world. … The president must appreciate that Russia is not our ally. There is no moral equivalence between the United States and Russia."

— Peter Baker (@peterbakernyt) July 16, 2018
As a member of the House Armed Services Committee, I am deeply troubled by President Trump's defense of Putin against the intelligence agencies of the U.S. & his suggestion of moral equivalence between the U.S. and Russia. Russia poses a grave threat to our national security.

— Liz Cheney (@Liz_Cheney) July 16, 2018
Corker, "very saddened" about Trump/Putin event, tells us that Putin is probably eating "caviar" right now and the US looked like a "pushover…. "I did not think this was a good moment for our country."

— Manu Raju (@mkraju) July 16, 2018
The American people deserve the truth, & to disregard the legitimacy of our intelligence officials is a disservice to the men & women who serve this country. It's time to wake up & face reality. #Putin is not our friend; he's an enemy to our freedom.

— Adam Kinzinger (@RepKinzinger) July 16, 2018
Several Republican lawmakers Monday criticized President Donald Trump's joint appearance with Russian President Vladimir Putin in which Trump accepted Putin's denials of meddling in the U.S. election. https://t.co/R3vc6ddM7C #Helsinki2018

— USA TODAY (@USATODAY) July 16, 2018
This is a great test of who is willing to say what they think and who's too afraid of Trump. Congressional Republicans, almost to a person, don't like what Trump did today. How many will actually say it? How many will use weasel words?

— Aaron Blake (@AaronBlake) July 16, 2018
There is nothing close to this in Presidential history. President Trump sided with Putin against our intelligence community on an attack against the U.S. Dereliction of duty. https://t.co/nmbh3Bgzms

— Nicholas Burns (@RNicholasBurns) July 16, 2018
Today's press conference in #Helsinki was one of the most disgraceful performances by an American president in memory.

My full statement on the #HelsinkiSummit: https://t.co/lApjctZyZl

— John McCain (@SenJohnMcCain) July 16, 2018
After he backed the GOP's House Intel report that disputed the IC finding that Putin tried to get Trump elected, Rep. Will Hurd says on @TheLeadCNN: "I've seen Russian intelligence manipulate many people in my career, and I never thought the U.S. President would be one of them."

— Manu Raju (@mkraju) July 16, 2018
Chris Wallace says he asked Putin: "Why do so many of your political opponents end up dead or close to it?" @FoxNewsSunday

— Kristin Fisher (@KristinFisher) July 16, 2018
STATEMENT FROM DAN COATS: "The role of the Intelligence Community is to provide the best information and fact-based assessments possible for the President and policymakers. We have been clear in our assessments of Russian meddling in the 2016 election…" pic.twitter.com/X1DbEBVEMU

— Kaitlan Collins (@kaitlancollins) July 16, 2018
Trump's kowtowing to Putin on election meddling was shameful. But the whole idea of meeting with Putin was wrong. He is a thug, an aggressor who annexes other countries' territory and assassinates people in Western cities. We do not need better relations with thugs.

— Andrew C. McCarthy (@AndrewCMcCarthy) July 16, 2018
Paul Ryan: "There is no question that Russia interfered in our election and continues attempts to undermine democracy here and around the world. The president must appreciate that Russia is not our ally." https://t.co/GKrOBo08l2

— Capital Journal (@WSJPolitics) July 16, 2018
My statement on today's summit in Helsinki. pic.twitter.com/WSxFGDKMau

— Mitt Romney (@MittRomney) July 16, 2018
Neil Cavuto of Fox Business calls Trump's press conference "disgusting", "That sets us back a lot." pic.twitter.com/R2ZIjyFyPR

— Axios (@axios) July 16, 2018
Trump usually turns to Fox News when he wants to hear pundits defend his behavior, but he probably would not have liked what he saw on Monday after his joint press conference with Putinhttps://t.co/DW8qaRAOkR

— POLITICO (@politico) July 16, 2018
About today — how Helsinki underlined the rise of Putin's ruthless approach to politics and to facts https://t.co/yEnzYtVYdv

— Anton Troianovski (@antontroian) July 16, 2018
President Trump must clarify his statements in Helsinki on our intelligence system and Putin. It is the most serious mistake of his presidency and must be corrected—-immediately.

— Newt Gingrich (@newtgingrich) July 16, 2018
Putin is getting legitimately upset about Wallace trying to keep him on-topic. This is a good interview. pic.twitter.com/YPl1Jba0Ec

— Aaron Blake (@AaronBlake) July 16, 2018
Vladimir Putin is not our friend and never has been. Nor does he want to be our friend. His regime's actions prove it. pic.twitter.com/W95VPf9T8Y

— Richard Burr (@SenatorBurr) July 16, 2018
Wow.

Wallace asks Putin why those who oppose him end up dead or almost dead…

Putin responds by asking – "haven't Presidents been killed in the US?"

— Lauren Peikoff (@laurenpeikoff) July 16, 2018
I would mock this answer except dude kills people https://t.co/C0xqT2JBdy

— Ben Shapiro (@benshapiro) July 16, 2018
This is hands down the worst day of the entire Trump presidency. A dark day for any patriot who is a defender of freedom and democracy. I should be less shocked but somehow I still am.

— Meghan McCain (@MeghanMcCain) July 16, 2018
Michael Anton, Former Trump NSC spox, cancelled his appearance on Outfront tonight because he couldn't defend @realDonaldTrump today.

— Erin Burnett (@ErinBurnett) July 16, 2018
Someone has been busy, and he doesn't appear to be slowing down. 
As you can tell, George Conway generally doesn't have much to say in his own words on Twitter. While retweets are not necessarily endorsements, it is notable and certainly no accident that he has collected some of today's most explosive critiques. Whether that is Sen. John McCain's rebuke of Trump, comments criticizing Congressional Republicans, or otherwise, there is a clear theme here.
This is far from Conway's first rodeo when it comes to needling the Trump Administration, even though it is his wife's employer.
Conway has criticized the Trump Administration on the national debt, pushed back against the idea that Special Counsel Robert Mueller's appointment is "unconstitutional" and retweeted a tweet by CNN anchor Jake Tapper criticizing Trump for saying the findings of Inspector General Michael Horowitz's report on FBI conduct related to the Hillary Clinton email investigation. Trump said that the report exonerated him of collusion, when the report actually didn't address him at all.
One of the more eye-opening criticisms of President Trump on Monday came from former CIA director John Brennan. He said the joint press conference in Helsinki was an impeachable offense.
Brennan reacted by accusing Trump of committing "high crimes and misdemeanors," the same words found in Article II Section 4 of the U.S. Constitution laying out the grounds for impeachment.
"Donald Trump's press conference performance in Helsinki rises to & exceeds the threshold of 'high crimes & misdemeanors.' It was nothing short of treasonous. Not only were Trump's comments imbecilic, he is wholly in the pocket of Putin. Republican Patriots: Where are you???" he wrote. Conway didn't retweet this one.
[Image Chip Somodevilla/Getty Images]
Have a tip we should know? [email protected]