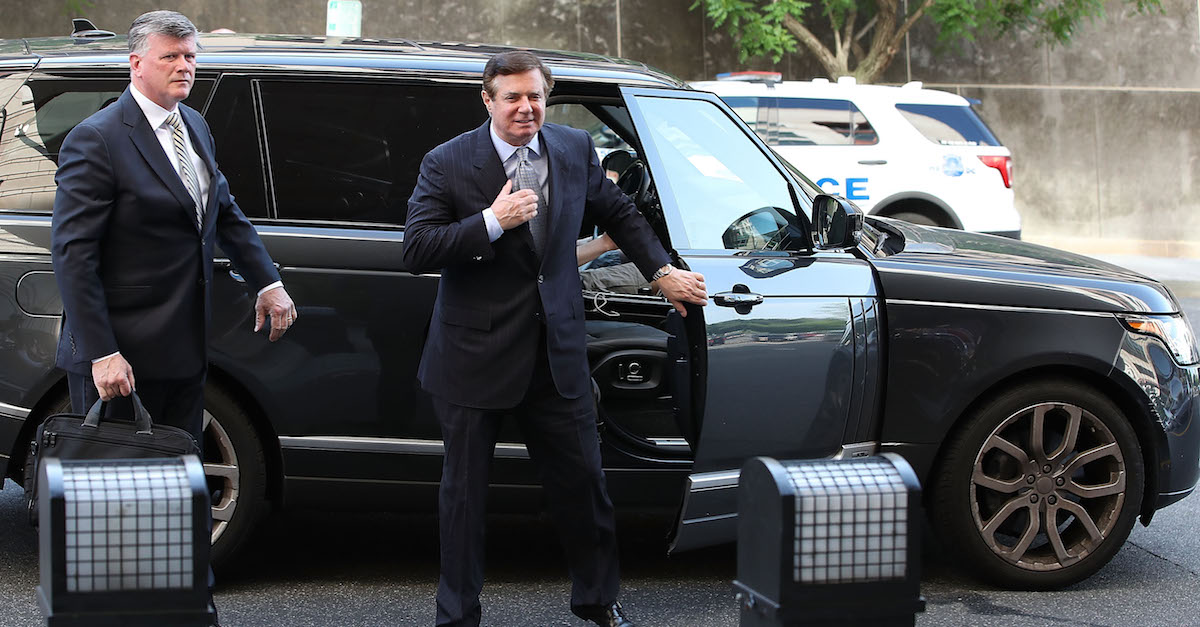 The judge overseeing Paul Manafort's federal court case on charges of tax evasion and bank fraud in Virginia delayed proceedings in a surprise move on Monday afternoon. According to legal experts familiar with the federal court system, this could be an indication that Manafort is about to cut a plea deal.
Per Politico's Josh Gerstein, U.S. District Judge T.S. Ellis III postponed a hearing set for tomorrow on issues regarding change of venue requests and trial delays. Gerstein noted, "Jurors were to be summoned on the day following the rescheduled hearing. Jury selection set to open the next day."
The delay may or may not have caught the prosecution and defense off guard–but was certainly a shock to those watching the events unfold from a distance. According to the publicly-accessible court docket, no party had submitted a request for such a delay and there was also no indication of an official court notice being filed as of late Monday afternoon.
Many legal observers noted that this was a strange turn of events with the trial fast approaching; several even indicated that this last-minute interruption could signal Manafort's last-minute willingness to flip.
In his initial tweet, Gerstein added, "Lot of tea leaves to read." Indeed there are. But instead of speculating over our own collective cup of Earl Grey here at Law&Crime, we asked several legal experts with experience in the federal court system to do the heavy-lifting for us. Here's what they had to say.
Renato Mariotti is a former federal prosecutor and currently a candidate for Illinois Attorney General. He offered the following possibility in response to our questions, "One obvious explanation is that Manafort is negotiating a last-minute plea deal with Mueller, and both parties have asked for pretrial matters to be postponed while they work out the details."
Henry Hockeimer is a former Assistant U.S. Attorney (AUSA) for Oklahoma City. He's currently a white collar criminal defense lawyer at Ballard Spahr, LLP. In an email to Law&Crime, he said:
It could be anything from [Judge Ellis has] already made up his mind and will deny the motions and just push back jury selection to perhaps the parties jointly asked the court for more time because they are in plea negotiations.  Matters are not often delayed on eve of trial in the rocket docket without a very good reason. That court moves stuff quickly to trial.
Mimi Rocah is a former AUSA with the Southern District of New York (SDNY); she's currently a distinguished fellow in criminal justice at Pace University's Elisabeth Haub School of Law. Rocah wasn't quite convinced there was too much importance in Monday's delay–at least not for now. In an emailed response, she said, "Not par for course but without trial date moving too I wouldn't read too much into it yet."
Daniel Goldman is also a former federal prosecutor with the SDNY and is currently a legal scholar, analyst and fellow at NYU Law School's Brennan Center for Justice. In an email exchange with Law&Crime, he said:
Very hard to say. It could have been as a result of a sealed letter request from parties (indicating plea negotiations) or it could have just been that the judge needs more time to decide the issues and means nothing (or something in the middle).
Ellis' surprise move was also initially interpreted as a potential delay of jury summons and selection proceedings but that doesn't necessarily appear to be the case–at least not yet. Gerstein clarified in a later tweet after being asked about this exact issue. He said, "No word on [jury selection] at this point. There's been no indication of a change. Judge does need to make some rulings on what'll be in the questionnaire. Parties just filing on that today."
[image via Mark Wilson/Getty Images]
Follow Colin Kalmbacher on Twitter: @colinkalmbacher 
Have a tip we should know? [email protected]