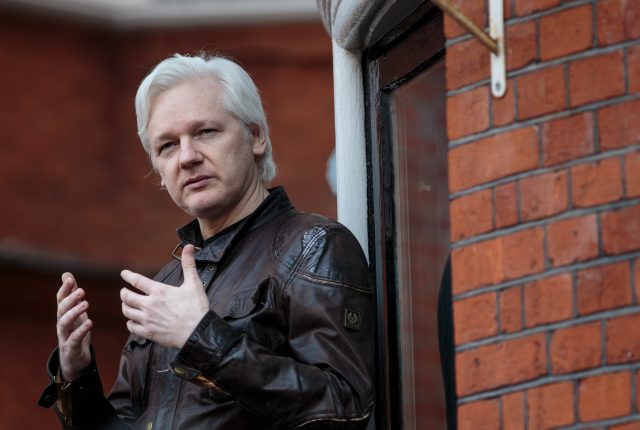 A British court has ruled against the first of four points made by attorneys for Julian Assange who are in the midst of contesting the United Kingdom's arrest warrant against the editor and publisher of Wikileaks at a hearing on Tuesday.
Judge Emma Arbuthnot with the Westminster Magistrates Court ruled against the first of those four technical points in a much-publicized decision at around 2 p.m. London time.
That initial decision was widely and inaccurately reported as a slam-dunk win for the Conservative British government, however, three additional points were argued after the first and now remain to be adjudicated. The arrest warrant would likely be invalidated were Arbuthnot to rule in Assange's favor on any of the remaining points.
Since December 7, 2010, Assange has been detained by the United Kingdom–initially because he was wanted for questioning in Sweden over allegations of rape and sexual assault. Since June 2012, Assange has called the Ecuadorian embassy home and was officially granted asylum status by the Republic of Ecuador on August 16, 2012.
In August 2015, Swedish prosecutors announced that due to the expiration of the statute of limitations, the less serious sexual assault charges against Assange were being dropped. In February 2016, the United Nations ruled that Assange's situation in the United Kingdom was akin to "arbitrary detention."
On May 19, 2017, Swedish authorities dropped their inquiry into the rape allegation and subsequently rescinded the warrant issued for his arrest. The Swedish warrant prompted the United Kingdom's attempt to extradite Assange, which in turn led to his jumping bail by taking asylum in the Ecuadorian embassy.
Assange is presently wanted by the United Kingdom–putatively to answer for those bail violations. Assange and many others, however, believe the United Kingdom has retained their arrest warrant for the Wikileaks head due to the presence of a secret extradition request by the United States.
Various U.S. officials, including members of the Barack Obama and Donald Trump administrations have signaled the U.S. is working to either arrest or harm Assange. Then FBI Director James Comey told Congress in 2017, "[Asssange] hasn't been apprehended because he is in the Ecuadorian embassy in London." Current CIA Director Mike Pompeo has expressed his desire to "take down" Assange and stated that he has "no first amendment rights."
Attorney General Jefferson Beauregard Sessions III has stated that the arrest of Assange "is a priority." On April 20, 2017, The Financial Times reported that a grand jury was empaneled to indict Assange. It's presently unclear what, if anything, has come of that grand jury.
Assange's team lost the initial point this afternoon, arguing the United Kingdom's arrest warrant should be held invalid because it has "lost its purpose and function." Assange's defense team also plead their client's case in terms of the damage the arbitrary detention has caused him, noting:
He has spent five and a half years in conditions which, on any view, are akin to imprisonment, without access to adequate medical care or sunlight, in circumstances where his physical and psychological health have deteriorated and are in serious peril.
After ruling against the first point, Assange's team argued the additional three points. The defendant himself was live-tweeting the arguments and exhibits here. Just after 4 p.m. London time, the court dismissed to consider those three remaining points.
Their final judgment will be issued next Tuesday, February 13, at 2 p.m.
[image via Jack Taylor/Getty Images]
Have a tip we should know? [email protected]