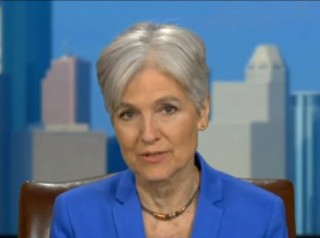 Before you donate to Green Party candidate Jill Stein's effort to demand a recount in Wisconsin, Michigan, and Pennsylvania, you may want to read the fine print on her website. So far, she has raised $4.8 million, but take a look at this little clause at the end of donation form:
We cannot guarantee a recount will happen in any of these states we are targeting. We can only pledge we will demand recounts in those states.

If we raise more than what's needed, the surplus will also go toward election integrity efforts and to promote voting system reform.
And interestingly, as more donations started pouring in over the holiday, Stein moved her total fundraising goal to $7 million. She originally had a goal of $2.5 million.  She also upped the amount she will need for lawyer's fees.
As @DrJillStein's #Recount2016 campaign nears $2 mil, she changes total goal to $6 or $7 mil. pic.twitter.com/L4oawAoqOO

— David Fishman (@davidpkfishman) November 24, 2016
What's even stranger is that she seems to be tinkering with some of the language on her website about the likelihood of a recount.  On November 23, 2016, according to a screen capture by Tim Young, a political comedian, the website stated "[i]f we do not raise enough for any recount (which is highly unlikely) we pledge to use the money for election integrity efforts and to promote systematic voting system reform."
READ THE FINE PRINT: There probably won't be a recount and Jill Stein will line her pockets with the money for "integrity efforts" #NoRefund pic.twitter.com/a3fF5JOpGP

— Tim Young (@TimRunsHisMouth) November 24, 2016
However, as of Friday morning, the language of not raising enough money was removed from her website. Take a look at this screenshot: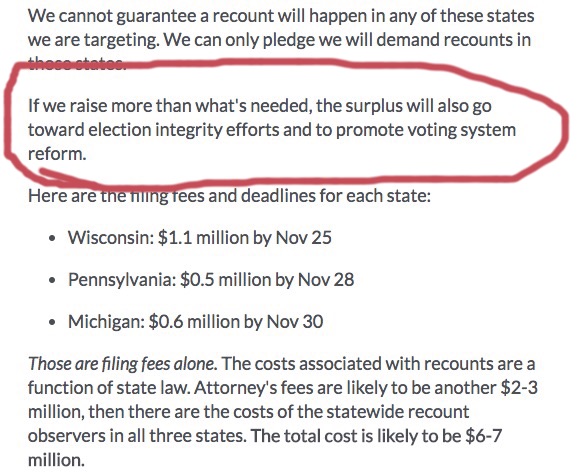 We reached out to Jill Stein's campaign for further explanation on why the donation terms are changing. This could pose a problem, legally, if action is taken by donors who feel like the money wasn't used for the stated goal.
UPDATE: 5:20 pm
David Cobb, campaign manager for Jill Stein, responded to LawNewz's inquiry. He said that to them the above is explanatory text, not discrepancies. Once they got more information about the recount, he said they changed the text on the website to be clearer.  Additionally, Cobb said they only factored in Wisconsin when they first publicized their $2.5 million goal on their website. Once the campaign realized the cost of a recount for other states, they upped the goal, he said.
Have a tip we should know? [email protected]
Rachel Stockman - President / On Air Host