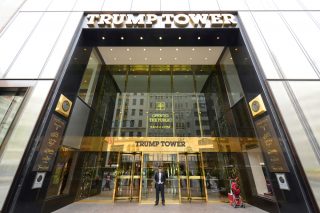 Melania Trump and son Barron are planning to continue to live in their New York penthouse at least through the spring. Of course, that means the Secret Service will be moving in with them, or at least 40 floors below their Fifth Avenue Trump Tower penthouse. That real estate won't come cheap though, so government officials will likely have to shell out millions of dollars to stay close to the First Family.
According to the New York Post, the Secret Service and NYPD are looking to set up a two-story command post in the Trump building, for about 250 total agents and police officers. They are reportedly negotiating for space that is currently vacant among the floors designated for commercial tenants. Only the higher floors are for residential spaces, so the officers wouldn't be mixed in with people who live in the building. It is unknown how much they would end up paying, but the market value for the space is currently more than $3 million for two floors.
While it may seem odd for the government to pay Trump's organization in order to protect his family, it's common for the Secret Service to rent space to be near the President, Vice President, and their families. It would not even be unprecedented for the government to stay at property owned by the people they're protecting. Vice President Joe Biden reportedly charged rent for agents to stay in a cottage near his home in Delaware.
[Image via Shutterstock]
Have a tip we should know? [email protected]