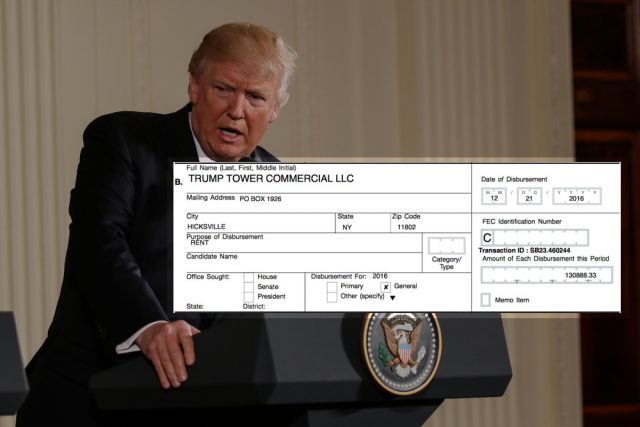 Could this recently-obtained campaign finance filing be proof of the alleged $130,000 hush money payment made by Donald Trump to adult film actress Stormy Daniels? Maybe.
In a tweet sent at 7:41 a.m. on Tuesday by Citizens for Responsibility and Ethics in Washington ("CREW"), the government corruption watchdog group wrote:
President Trump is accused of paying $130,000 in hush money to porn star Stormy Daniels to hide an affair a month before the election. In what is probably just a coincidence, the Trump campaign transferred $130K to the Trump businesses a month after the election.
To be clear, the document itself contains no information regarding Daniels, or her given name, Stephanie Clifford. In fact, the document only shows one payment made by the Trump 2016 presidential campaign to Trump Tower Commercial LLC–a pass-through tax entity incorporated in the hamlet of Hicksville, New York–for purposes of "RENT."
The timing and amount of the payment from the Trump campaign to one of Trump's many business entities, however, are apparently what set CREW into full-on speculative mode on Twitter.
Team Trump, for their part, have consistently denied the alleged hush money payment–originally reported by the Wall Street Journal–which is said to have been issued in order to keep the Trump-Daniels' affair under wraps immediately prior to the 2016 presidential general election.
According to Wall Street Journal's original reporting, Trump's longtime personal attorney, Michael Cohen, paid Daniels $130,000 in October 2016 in exchange for Daniels signing a non-disclosure agreement ("NDA") regarding the pre-presidential affair which was jointly drafted by Cohen and Daniels' own attorney.
Last week, the Wall Street Journal reported that Cohen allegedly used a private Delaware company–incorporated as Essential Consultants LLC–to make the payment to Daniels.
That company was established on October 17, 2016, according to a filing with the Delaware Secretary of State. Per the Wall Street Journal's reporting–which relies upon anonymous sources–a bank account linked to Essential Consultants LLC then made the $130,000 payment to a client-trust account administered by Daniels' attorney, Keith Davidson.
Despite the various accounts of funds, transfers, incorporated entities and payments, however, Trump, by way of his attorneys–and Cohen especially–still denies both the $130,000 payment and the NDA's basic existence.
On Monday, however, another government accountability watchdog group, Common Cause, filed complaints with the Department of Justice ("DOJ") and Federal Election Commission ("FEC") over the alleged payment made to Daniels–describing the hush money as a campaign expenditure that was illegally not reported to the FEC.
Common Cause's legal action could force the NDA–if it exists–out into the open. As of Tuesday, Neither the FEC nor the DOJ have responded to Common Cause's complaints.
CREW, for their part, dialed back the sarcastic speculation by insisting their initial tweet wasn't really arguing in favor of the point it intended to get across. In a tweet sent a few hours later, at 10:08 a.m. on Tuesday, they wrote:
To be clear, we're not alleging anything nefarious took place. It was, as we said, probably a coincidence. But, as with other interesting FEC payments we flag, it's an interesting one and one worth asking about.
Founded in 2003 by Democrats Norm Eisen and Melanie Sloan, CREW is a nonprofit and putatively nonpartisan organization which, according to their Twitter bio, "uses high-impact legal actions to target government officials who sacrifice the common good to special interests."
We reached out to the White House for confirmation on the check's purpose but haven't heard back.
[image via screengrab]
Follow Colin Kalmbacher on Twitter: @colinkalmbacher
Have a tip we should know? [email protected]