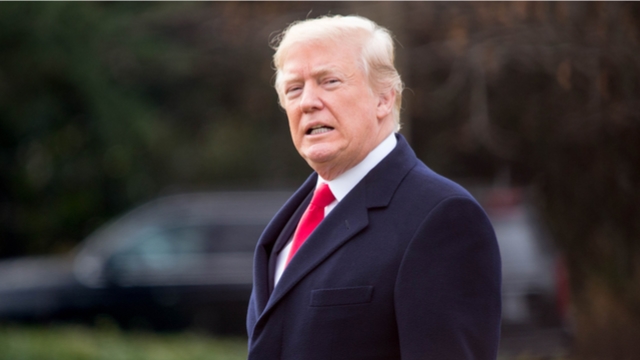 Two complaints filed today accuse President Donald Trump and his 2016 campaign of violating federal campaign finance laws by not reporting $130,000 in hush money paid to adult film star Stormy Daniels.
The complaints in question were filed by non-profit and nonpartisan watchdog group Common Cause, which was founded in 1970 by Republican John W. Gardner. One complaint was filed with the Department of Justice ("DOJ") while another was filed with the Federal Election Commission ("FEC").
The FEC complaint notes:
Specifically, based on publicly available data and published reports, complainants have reason to believe that the payment of $130,000 from Essential Consultants LLC to Ms. Stephanie Clifford [Stormy Daniels' given name] was an unreported in-kind contribution to President Trump's 2016 presidential campaign committee, Donald J. Trump for President, Inc., and an unreported expenditure by the committee—because the funds were paid for the purpose of influencing the 2016 presidential general election.
That legal document goes on to allege three causes of action based on various alleged violations of U.S. federal election laws.
The complaint filed with the DOJ–and addressed to Deputy Attorney General Rod Rosenstein–restates those same causes of action filed with the FEC while additionally claiming Trump, his campaign and their satellites and/or associates committed "knowing and willful" violations of campaign finance laws–and that such actions fall under the DOJ's jurisdiction.
In a press release announcing the complaints, Common Cause President Karen Hobert Flynn said:
The American people expect and deserve transparency when it comes to money spent to influence elections and those requirements are not optional no matter how embarrassing the reason behind the expense. Candidates and their attorneys cannot choose how and when to comply with federal campaign finance laws. We strongly urge the Justice Department and the FEC to fully investigate these apparent illegal activities and if appropriate to take action to hold the President and his campaign accountable.
[Image via Michael Candelori/Shutterstock]
Follow Colin Kalmbacher on Twitter: @colinkalmbacher
Have a tip we should know? [email protected]