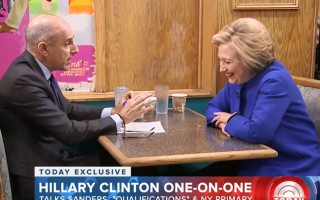 During a one-on-one interview with NBC's Matt Lauer, Hillary Clinton was asked about the GOP's criticism about the pending FBI investigation into her private email server. She started laughing when Lauer suggested that some Republicans were predicting she'd be hauled off in handcuffs. She called that notion a "fantasy" and once again re-affirmed her position that the probe into her private email server was merely "a security review." Although, just this week, FBI Director James Comey told reporters that he feels 'no pressure' to complete the investigation before the Democratic Convention. In fact, the FBI has repeatedly said they are conducting an investigation.
(Skip to around 5:50 to hear her comments on the FBI 'security review'):
Here is the transcript from the interview:
Lauer: Do you know what I hear a lot (from Republicans)? They are clinging to the hope that the way they will be able to deal with that, is that at some point between now and the election…that they will get to see Hillary Clinton in handcuffs.

Clinton: Oh my goodness!

Lauer: That there will be some kind of political perp walk based on your private email server.

Clinton: I know, they live in that world of fantasy and hope because they've got a mess on their hands on the Republican side. That is not going to happen. There is not even the remotest chance that is going to happen. But look, they've been after me, as I say, for 25 years, and they have said things about me repeatedly that have been proven to be not only false but kind of ridiculous.

Lauer: You are a lawyer. How do you see this ending? Do you think the FBI and the Justice Department write you a letter and say it was a misunderstanding? We're sorry, carry on?

Clinton: We are certainly going to carry on. It's a security review, it is a security review and there are lots of those that are conducted in our government all the time. And you don't hear about most of them. You hear about this one because it does involve me, so that's why it gets so much attention.
Clinton contends that the Republican's fondest wishes will not be fulfilled. At LawNewz.com, we have been covering the controversy surrounding Clinton's private server very closely. Our  founder Dan Abrams recently penned an editorial in which he contends that based on what we know today, Clinton likely did not commit a crime.
"I  believe she probably violated government procedures and rules but even based on all the new material that has emerged, it also would be a purely politicized prosecution (if there isn't more than we currently know)," Abrams wrote.
On the other hand, LawNewz.com editor and attorney Chris White believes that Clinton committed at least a misdemeanor.
"At a minimum, we know enough today to sustain a misdemeanor charge of unauthorized removal and retention of classified material," Write wrote in a recent article.
[screengrab via NBC News]
Have a tip we should know? [email protected]
Rachel Stockman - President / On Air Host