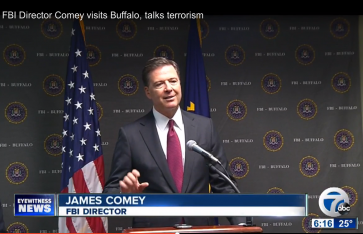 FBI Director James Comey visited in Buffalo, NY on Monday to tour the Buffalo FBI Field Office and he answered a few local reporters' questions about the recent iPhone battle with Apple and the ongoing FBI investigation into Hillary Clinton's use of a private e-mail server while serving as Secretary of State.
According to local reports, Comey addressed the recent iPhone incident by saying we ought to treat the iPhone the same way we treat a person's home or bank account — if there is "probable cause" to access the iPhone, then courts should be able to insure law enforcement has the necessary access.
While declining to directly comment on recent reports that he might personally interview Clinton about her use of a private e-mail server prior to submitting a recommendation to Attorney General Loretta Lynch, Comey did tell WIBV News4 that he felt no pressure to wrap up the e-mail investigation prior to the Democratic Party National Convention this summer.
"No, and the only reason I hesitate is in any investigation of intense public interest, whether it involves a public figure.  Involves some horrific crime. San Bernardino is a great example. We feel a great sense of urgency to do it well and to do it promptly," Comey told News4.
"I wouldn't say the concerns are any different in any of the high profile cases," he said.
LawNewz.com will update this post with video of Comey's answer when it becomes available.
[image via screengrab]
Have a tip we should know? [email protected]