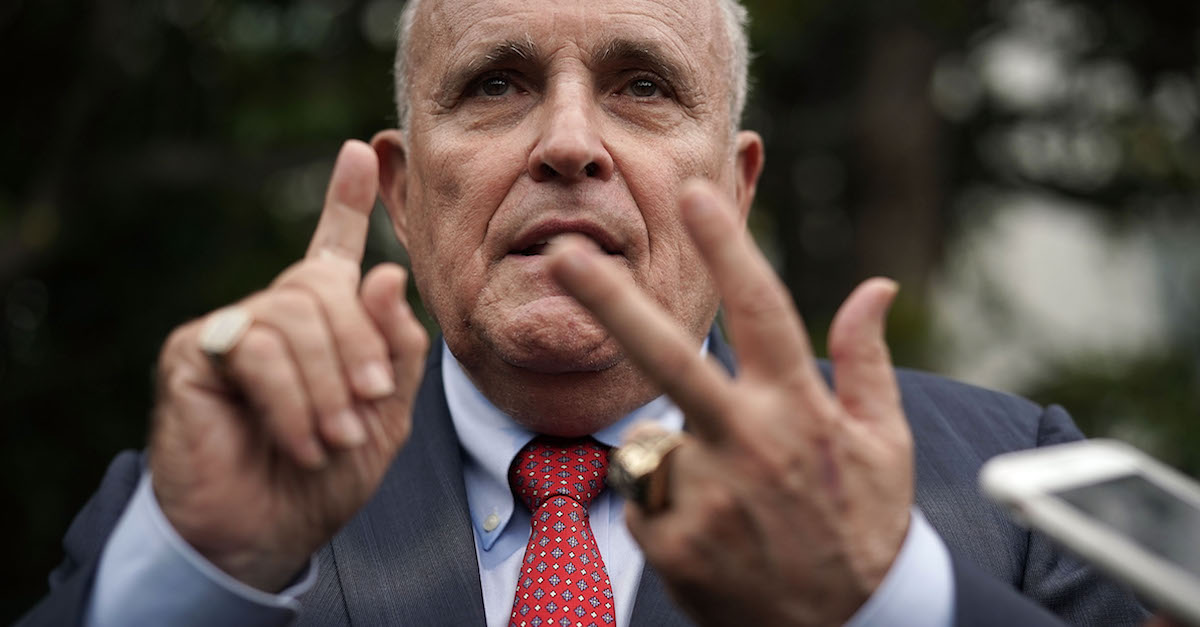 Rudy Giuliani is saying that if special counsel Robert Mueller thinks President Donald Trump is going to answer any questions about obstruction of justice he needs to think again.
According to the Associated Press, Giuliani said Trump won't answer questions in writing or in person about obstruction of Mueller's investigation into Russian interference in the 2016 election.
Giuliani called such questions a "no-go."
Such a stance would apply to any questions about the circumstances of various Trump firings. Former FBI Director James Comey's departure would be one such example.
This would also apply to Trump tweets, which the special counsel has reportedly been looking into. An example of the kind of tweet that might be asked about would be ones in which Trump has gone after Attorney General Jeff Sessions. Other questions could be asked about Trump's railings against the Mueller Probe in general as an "illegal witch hunt."
Questions about that 2016 Trump Tower meeting involving Donald Trump Jr. and a Russian lawyer, plus President Trump's response to it, would also likely be off limits.
Giuliani was clear about his position on this subject.
"That's a no-go. That is not going happen," he said. "There will be no questions at all on obstruction."
As Law&Crime reported previously, President Trump's own words could figure into any obstruction of justice analysis the special counsel might conduct. We have also noted the many suggestions that Mueller's investigation is heading toward a possible obstruction of justice charge.
For the record, obstruction of justice under 18 U.S.C. § 1503  is when a person "corruptly, or by threats or force, or by any threatening letter or communication, endeavors to influence, intimidate, or impede any grand or petit juror, or officer in or of any court of the United States" or the "due administration of justice." That's just one of several flavors of obstruction of justice; here are a few others.
The reaction to Giuliani's statement has gone just about exactly as one would think.
https://twitter.com/lilcheeptweets/status/1037851717860302848
Aaron Keller contributed to this report.
[Image via Alex Wong/Getty Images]
Have a tip we should know? [email protected]