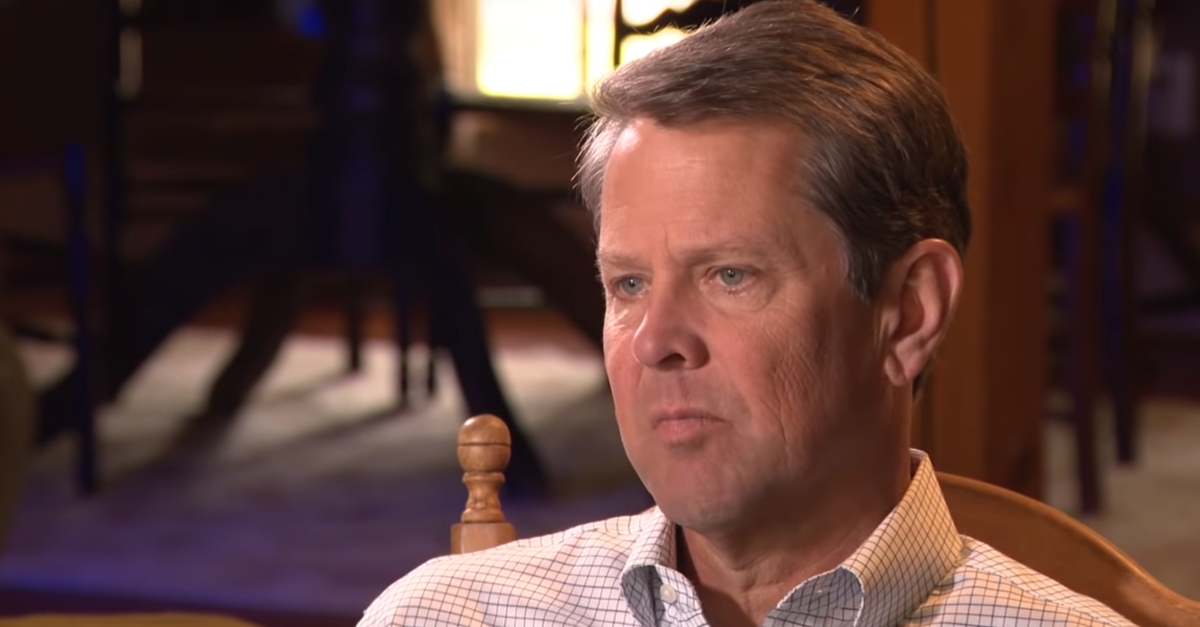 Hundreds of functional voting machines sat unused, locked away in warehouses, across metropolitan Atlanta as thousands of black voters weathered hours-long lines at the polls on Election Day.
According to the Atlanta Journal-Constitution, local officials in Cobb, DeKalb, and Fulton counties sequestered the machines due to "an ongoing federal lawsuit that argues Georgia's electronic voting machines could be hacked or tampered with."
But there's at least one major problem with this excuse: the ongoing litigation doesn't demand anything of the sort. Bruce Brown, an attorney for some of the plaintiffs in the case of Curling v. Kemp, noted this interesting turn of events in comments to the outlet:
No judge anywhere, at any time, has ever ordered Fulton County or any other county to set aside more machines than they said they could spare. No request was ever made by anyone to plaintiffs or the court suggesting that Fulton or anyone else needed more machines for this or any other election.
A Law&Crime analysis of the relevant court filings, motions, and orders in the case supports Brown's estimation of the problem here.
U.S. District Judge Amy Totenberg has never issued any such decision. Nor have the plaintiffs or the defendants ever suggested such a scenario–functional machines kept under lock-and-key while polling sites struggle to accommodate voters–in any of their proposals to the court.
Brown's criticism of the decision didn't stop there. In an interview with Law&Crime, he elaborated on the failure of the counties affected by the lawsuit to properly prepare for Tuesday's high turnout election.
"Why didn't you ask for more?" he pondered out loud. "Why didn't you ask the Secretary of State? Why didn't you ask other counties? Why didn't you come back and ask the court? If you know you were going to be short, why did you just sit there knowing there was an election coming with huge turnout and not plan ahead?"
Brown also explained the genesis of the ongoing lawsuit excuse.
Earlier this year, the plaintiffs and the four state defendants–Cobb, Fulton, and DeKalb counties plus the Georgia Secretary of State–came to an agreement about which and how many machines wouldn't be used during the May primary election. There was no real disagreement there, Brown said.
When it came time for the same decision to be made about November's midterm election, however, the counties and Brian Kemp's office were completely silent about any potential problems.
"We said fine, and the notion was that the counties would be setting aside a certain number of machines," Brown explained, "but if they needed more they would come back and ask the parties for more information."
That never happened. And eventually the three counties in question–under the direction of Kemp's office–were overwhelmed by voters who stood in line for hours all across Atlanta and the surrounding suburbs.
Cobb Elections Director Janine Eveler offered her own assessment.
"We thought we had enough until turnout started expanding," she told the AJC. "And with the ballot being long and complicated, the time at the touchscreen was longer. We had voters who called and expressed their frustration." But, Eveler also said, her office sequestered around 550 voting machines anyway.
Brown also explained that combined, the three counties own over 27,000 voting machines which are regularly serviced, so any preservation of evidence concerns didn't necessarily have to effect any of the unused and easily-accessible voting machines that were actually in working order.
Brown punctuated his opinion that the excuse given by the counties was baseless. He said:
Obviously, the court and the parties would have immediately entered into some sort of understanding to allow the counties to have enough machines to use for the election. The idea that the litigation caused the shortage of machines is absolute, unmitigated nonsense.
Law&Crime reached out to Eveler for additional comment and clarification on this story, but no response was forthcoming at the time of publication. Similar inquiries were addressed to DeKalb county officials. After consulting with a staff attorney, those officials said "we have no comment."
April Majors, a spokesperson for Fulton County, confirmed that the decision not to use those machines was made and that the machines in question had been "sequestered." Majors also said she was not the one with the relevant "expertise" to answer exactly how and why that decision had been made.
When asked whether Georgia Secretary of State Brian Kemp's office was involved in the decision she said that was a "legitimate question," but when pressed as to her knowledge of Kemp's potential involvement, Majors said she had no comment.
As Kemp is also party to the litigation and previously enacted joint agreements, however, his office is directly implicated in the decision. Brown hammered this point home when asked about Kemp's involvement.
"Yes," he said, "Here's why. The buck stops with him. He is in charge of elections statewide. It is his office that's responsible for making sure the counties have the resources they need. The buck stops with Kemp."
A voicemail left with the Georgia Secretary of State's elections division was not returned.
[Image via screengrab/Fox 5 Atlanta]
Follow Colin Kalmbacher on Twitter: @colinkalmbacher
Editor's note: this article has been amended to include a response from DeKalb County.
Have a tip we should know? [email protected]