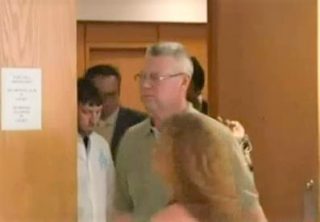 The father of Ethan Couch, whose lawyer famously blamed a fatal drunk driving accident on the made up condition "affluenza," has now been convicted himself. A Tarrant County, Texas jury found Frank Couch guilty of impersonating a police officer, sentencing him to probation on Wednesday.
The elder Couch was pulled over two years ago by North Richland Hills police, when he told them that he was a reserve police officer. which was not true. His attorney argued that while Couch even had a fake badge, he didn't try to use it to claim authority. The jury didn't go for it. If Couch violates his probation, he could end up in jail for 120 days.
Couch's son Ethan killed four people while driving under the influence when he was 16. His attorney argued that it wasn't his fault, due to being coddled by a wealthy family and not developing any sense of accountability for his actions. That defense didn't fly, and he was originally sentenced to probation, but after violating probation and trying to avoid arrest, he is now in jail serving a 720-day sentence. Couch's mother is also in trouble with the law, having been indicted in May for helping her son leave the country to avoid arrest after his probation violation.
[Image via NBCDFW screengrab]
Have a tip we should know? [email protected]